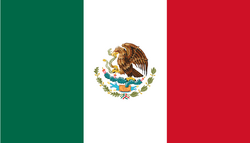 Mexico is a country just south of the United States in North America.
It has a population of about 110,000,000 and its capital is Mexico City.
Mexico

Info

Rinks

Players

Referees

22

Population

111,211,789

Indoor

18

Total

2,220

Male

--

Capital

Mexico City

Outdoor

0

Male

400

Female

--

IIHF Since

April 30 1985

Junior

1,800

Female

20
The Mexican national ice hockey team is the national men's ice hockey team of Mexico and a member of the International Ice Hockey Federation. They are currently ranked 32nd in the IIHF World Rankings and currently compete in IIHF World Championship Division II.[1]
The game of ice hockey was played in Mexico for the first time in the 1960's. However, the Mexican Federation of Winter Sports was not founded until 1984.
Mexico joined the International Ice Hockey Federation in April of 1985.[2] They played its first game in 2000 during the 2000 World Championships, losing to Belgium 5–0.[3] Since then they have participated in every World Championship and are currently in division II after finishing fifth in the group A tournament, which was held in Mexico.
National Teams
Edit