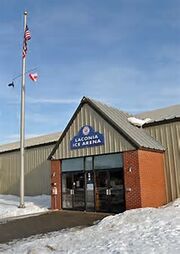 The Merrill Fay Arena (formerly Laconia Ice Arena) is an indoor arena located in Laconia, New Hampshire.  The facility is presently home to the New England Wolves of the Eastern Hockey League.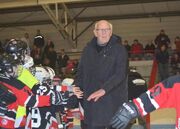 The facility was renamed in June of 2016 in honor of Merril P. Fay who was responsible for the start of youth hockey in the Laconia area when he created a small pond rink in his boatyard during the 1970's.  He cleared the ice, flooded it and plowed it when needed.
The first rink was replaced with the Arthur R. Tilton Rink which was built onshore at Varney Point by Fay and others. Fay hosted various events to raise money to purchase a Zamboni and put a roof on the rinkin 1984.
Fay purchased the seven acres of land and paid for construction of the Laconia Ice Arena which first opened in 1997.  Fay's son William runs the arena.  Fay has continued to be active in the Lakes Region Youth Hockey Association to present and started the Winnipesaukee Skating Club in 1989
Community content is available under
CC-BY-SA
unless otherwise noted.