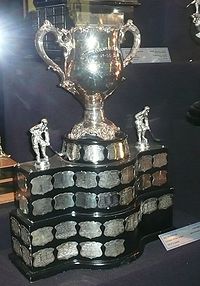 The Memorial Cup was originally known as the OHA Memorial Cup and was donated by the
Ontario Hockey Association
in March, 1919, in remembrance of the many young men and women who paid the supreme sacrifice for Canada in the First World War.
Initially the Cup was awarded to the national junior hockey champions of Canada. Later on it came to signify Junior 'A' hockey supremacy when in 1934, junior hockey in Canada was divided into 'A' and 'B' classifications. In 1971, junior 'A' hockey was divided once again to form a major junior and a Tier 'II' level. The Memorial Cup was awarded to the higher category. In 1972, a round-robin tournament format replaced the old play-down system to determine the champions. Since then, the champions of the Western Hockey League (WHL), the Quebec Major Junior Hockey League (QMJHL) and the Ontario Hockey League (OHL), along with a host club, have met each spring in a round-robin series with the two top teams playing off in a sudden-death game to determine the Cup champions.
Charity fundraising
Edit
A trend was started in 2008 where the CHL partnered with a company called Barnstorm Creative to create special commemorative jerseys to help raise funds for veteran related charities.  The jerseys are auctioned off after the Memorial Cup tournament for that year.
Champions
Edit
Memorial Cup champions
Year
Champion
Runner-Up
Result
Other participating teams
Host Location(s)
1919
University of Toronto Schools
Regina Patricias
29–8 (TG)
Toronto, ON
1920
Toronto Canoe Club Paddlers
Selkirk Fishermen
15–5 (TG)
Toronto, ON
1921
Winnipeg Falcons
Stratford Midgets
11–9 (TG)
Toronto, ON
1922
Fort William War Veterans
Regina Patricias
8–7 (TG)
Winnipeg, MB
1923
University of Manitoba Bisons
Kitchener Colts
14–6 (TG)
Toronto, ON
1924
Owen Sound Greys
Calgary Canadians
7–5 (TG)
Winnipeg, MB
1925
Regina Pats
Toronto Aura Lee
2–0
Toronto, ON
1926
Calgary Canadians
Queen's University
2–1
Winnipeg, MB
1927
Owen Sound Greys
Port Arthur West End Jrs.
2–0
Toronto, ON
1928
Regina Monarchs
Ottawa Gunners
2–1
Toronto, ON
1929
Toronto Marlboros
Elmwood Millionaires
2–0
Toronto, ON
1930
Regina Pats
West Toronto Nationals
2–0
Winnipeg, MB
1931
Elmwood Millionaires
Ottawa Primroses
2–1
Toronto & Ottawa, ON
1932
Sudbury Cub Wolves
Winnipeg Monarchs
2–1
Winnipeg, MB
1933
Newmarket Redmen
Regina Pats
2–0
Toronto, ON
1934
Toronto St. Michael's Majors
Edmonton Athletics
2–0
Winnipeg, MB
1935
Winnipeg Monarchs
Sudbury Cub Wolves
2–1
Winnipeg, MB
1936
West Toronto Nationals
Saskatoon Wesleys
2–0
Toronto, ON
1937
Winnipeg Monarchs
Copper Cliff Redmen
2–1
Toronto, ON
1938
St. Boniface Seals
Oshawa Generals
3–2
Toronto, ON
1939
Oshawa Generals
Edmonton Athletic Club
3–1
Toronto, ON
1940
Oshawa Generals
Kenora Thistles
3–1
Winnipeg, MB
1941
Winnipeg Rangers
Montreal Junior Royals
3–2
Toronto, ON & Montreal, QC
1942
Portage la Prairie Terriers
Oshawa Generals
3–1
Winnipeg, MB
1943
Winnipeg Rangers
Oshawa Generals
4–2
Toronto, ON
1944
Oshawa Generals
Trail Smoke Eaters
4–0
Toronto, ON
1945
Toronto St. Michael's Majors
Moose Jaw Canucks
4–1
Toronto, ON
1946
Winnipeg Monarchs
Toronto St. Michael's Majors
4–3
Toronto, ON
1947
Toronto St. Michael's Majors
Moose Jaw Canucks
4–0
Winnipeg, MB, Moose Jaw & Regina, SK
1948
Port Arthur West End Bruins
Barrie Flyers
4–0
Toronto, ON
1949
Montreal Junior Royals
Brandon Wheat Kings
4–3–1
Winnipeg & Brandon, MB
1950
Montreal Junior Canadiens
Regina Pats
4–1
Montreal, QC & Toronto, ON
1951
Barrie Flyers
Winnipeg Monarchs
4–0
Winnipeg & Brandon, MB
1952
Guelph Biltmore Mad Hatters
Regina Pats
4–0
Toronto, ON
1953
Barrie Flyers
St. Boniface Canadiens
4–1
Winnipeg & Brandon, MB
1954
St. Catharines Teepees
Edmonton Oil Kings
4–0–1
Toronto, ON
1955
Toronto Marlboros
Regina Pats
4–1
Regina, SK
1956
Toronto Marlboros
Regina Pats
4–0–1
Toronto, ON
1957
Flin Flon Bombers
Ottawa Junior Canadiens
4–3
Flin Flon, MB & Regina, SK
1958
Ottawa-Hull Junior Canadiens
Regina Pats
4–2
Ottawa, ON & Hull, QC
1959
Winnipeg Braves
Peterborough TPT Petes
4–1
Winnipeg & Brandon, MB
1960
St. Catharines Teepees
Edmonton Oil Kings
4–2
St. Catharines & Toronto, ON
1961
Toronto St. Michael's Majors
Edmonton Oil Kings
4–2
Edmonton, AB
1962
Hamilton Red Wings
Edmonton Oil Kings
4–1
Hamilton, Guelph & Kitchener, ON
1963
Edmonton Oil Kings
Niagara Falls Flyers
4–2
Edmonton, AB
1964
Toronto Marlboros
Edmonton Oil Kings
4–0
Toronto, ON
1965
Niagara Falls Flyers
Edmonton Oil Kings
4–1
Edmonton, AB
1966
Edmonton Oil Kings
Oshawa Generals
4–2
Toronto, ON
1967
Toronto Marlboros
Port Arthur Marrs
4–1
Thunder Bay, ON
1968
Niagara Falls Flyers
Estevan Bruins
4–1
Niagara Falls, ON & Montreal, QC
1969
Montreal Junior Canadiens
Regina Pats
4–0
Montreal, QC & Regina, SK
1970
Montreal Junior Canadiens
Weyburn Red Wings
4–0
Montreal, QC
1971
Québec Remparts
Edmonton Oil Kings
2–0
Quebec City, QC
1972
Cornwall Royals (QMJHL)
Peterborough Petes (OHA)
2–1
Edmonton Oil Kings (WCHL)
Ottawa, ON
1973
Toronto Marlboros (OHA)
Québec Remparts (QMJHL)
9–1
Medicine Hat Tigers (WCHL)
Montreal, QC
1974
Regina Pats (WCHL)
Québec Remparts (QMJHL)
7–4
St. Catharines Black Hawks (OHA)
Calgary, AB
1975
Toronto Marlboros (OHA)
New Westminster Bruins (WCHL)
7–3
Sherbrooke Castors (QMJHL)
Kitchener, ON
1976
Hamilton Fincups (OHA)
New Westminster Bruins (WCHL)
5–2
Québec Remparts (QMJHL)
Montreal, QC
1977
New Westminster Bruins (WCHL)
Ottawa 67's (OHA)
6–5
Sherbrooke Castors (QMJHL)
Vancouver, BC
1978
New Westminster Bruins (WHL)
Peterborough Petes (OHA)
7–4
Trois-Rivières Draveurs (QMJHL)
Sudbury & Sault Ste. Marie, ON
1979
Peterborough Petes (OHA)
Brandon Wheat Kings (WHL)
2–1 (OT)
Trois-Rivières Draveurs (QMJHL)
Sherbrooke, Trois-Rivières & Verdun, QC
1980
Cornwall Royals (QMJHL)
Peterborough Petes (OHA)
3–2 (OT)
Regina Pats (WHL)
Brandon, MB & Regina, SK
1981
Cornwall Royals (QMJHL)
Kitchener Rangers (OHL)
5–2
Victoria Cougars (WHL)
Windsor, ON
1982
Kitchener Rangers (OHL)
Sherbrooke Castors (QMJHL)
7–4
Portland Winter Hawks (WHL)
Hull, QC
1983
Portland Winter Hawks (WHL)
Oshawa Generals (OHL)
8–3
Lethbridge Broncos (WHL) , Verdun Juniors (QMJHL)
1984
Ottawa 67's (OHL)
Kitchener Rangers (OHL)
7–2
Laval Voisins (QMJHL), Kamloops Jr. Oilers (WHL)
1985
Prince Albert Raiders (WHL)
Shawinigan Cataractes (QMJHL)
6–1
Sault Ste. Marie Greyhounds (OHL), Verdun Junior Canadiens (QMJHL)
1986
Guelph Platers (OHL)
Hull Olympiques (QMJHL)
6–2
Kamloops Blazers (WHL), Portland Winter Hawks (WHL)
1987
Medicine Hat Tigers (WHL)
Oshawa Generals (OHL)
6–2
Longueuil Chevaliers (QMJHL) [a]
1988
Medicine Hat Tigers (WHL)
Windsor Spitfires (OHL)
7–6
Drummondville Voltigeurs (QMJHL)[b]

, Hull Olympiques (QMJHL)

1989
Swift Current Broncos (WHL)
Saskatoon Blades (WHL)
4–3 (OT)
Laval Titan (QMJHL), Peterborough Petes (OHL)
1990
Oshawa Generals (OHL)
Kitchener Rangers (OHL)[c]
4–3 (OT)
Laval Titan (QMJHL), Kamloops Blazers (WHL)
1991
Spokane Chiefs (WHL)
Drummondville Voltigeurs (QMJHL)[d]
5–1
Chicoutimi Saguenéens (QMJHL), Sault Ste. Marie Greyhounds (OHL)
1992
Kamloops Blazers (WHL)
Sault Ste. Marie Greyhounds (OHL)
5–4
Seattle Thunderbirds (WHL), Verdun Collège Français (QMJHL)
1993
Sault Ste. Marie Greyhounds (OHL)
Peterborough Petes (OHL)
4–2
Laval Titan (QMJHL), Swift Current Broncos (WHL)
1994
Kamloops Blazers (WHL)
Laval Titan (QMJHL)
5–3
Chicoutimi Saguenéens (QMJHL), North Bay Centennials (OHL)
1995
Kamloops Blazers (WHL)
Detroit Jr. Red Wings (OHL)
8–2
Brandon Wheat Kings (WHL), Hull Olympiques (QMJHL)
1996
Granby Prédateurs (QMJHL)
Peterborough Petes (OHL)
4–0
Brandon Wheat Kings (WHL), Guelph Storm (OHL)
1997
Hull Olympiques (QMJHL)
Lethbridge Hurricanes (WHL)
5–1
Chicoutimi Saguenéens (QMJHL), Oshawa Generals (OHL)
1998
Portland Winter Hawks (WHL)
Guelph Storm (OHL)
4–3 (OT)
Spokane Chiefs (WHL), Val-d'Or Foreurs (QMJHL)
1999
Ottawa 67's (OHL)
Calgary Hitmen (WHL)
7–6 (OT)
Acadie-Bathurst Titan (QMJHL), Belleville Bulls (OHL)
2000
Rimouski Océanic (QMJHL)
Barrie Colts (OHL)
6–2
Halifax Mooseheads (QMJHL), Kootenay Ice (WHL)
2001
Red Deer Rebels (WHL)
Val-d'Or Foreurs (QMJHL)
6–5 (OT)
Ottawa 67's (OHL), Regina Pats (WHL)
2002
Kootenay Ice (WHL)
Victoriaville Tigres (QMJHL)
6–3
Erie Otters (OHL), Guelph Storm (OHL)
2003
Kitchener Rangers (OHL)
Hull Olympiques (QMJHL)
6–3
Kelowna Rockets (WHL), Québec Remparts (QMJHL)
2004
Kelowna Rockets (WHL)
Gatineau Olympiques (QMJHL)
2–1
Guelph Storm (OHL), Medicine Hat Tigers (WHL)
2005
London Knights (OHL)
Rimouski Océanic (QMJHL)
4–0
Kelowna Rockets (WHL), Ottawa 67's (OHL)
2006
Québec Remparts (QMJHL)
Moncton Wildcats (QMJHL)
6–2
Peterborough Petes (OHL), Vancouver Giants (WHL)
2007
Vancouver Giants (WHL)
Medicine Hat Tigers (WHL)
3–1
Lewiston Maineiacs (QMJHL), Plymouth Whalers (OHL)
2008
Spokane Chiefs (WHL)
Kitchener Rangers (OHL)
4–1
Belleville Bulls (OHL), Gatineau Olympiques (QMJHL)
2009
Windsor Spitfires (OHL)
Kelowna Rockets (WHL)
4–1
Drummondville Voltigeurs (QMJHL), Rimouski Océanic (QMJHL)
2010
Windsor Spitfires (OHL)
Brandon Wheat Kings (WHL)
9–1
Moncton Wildcats (QMJHL), Calgary Hitmen (WHL)
2011
Saint John Sea Dogs (QMJHL
Mississauga St. Michael's Majors (OHL)
3-1
Owen Sound Attack (OHL), Kootenay Ice (WHL)
2012
Shawinigan Cataractes (QMJHL)
London Knights (OHL)
2-1 (ot)
Edmonton Oil Kings (WHL), Saint John Sea Dogs (QMJHL
2013
Halifax Mooseheads (QMJHL)
Portland Winterhawks (WHL)
6-4
London Knights (OHL), Saskatoon Blades (WHL)
2014
Edmonton Oil Kings (WHL)
Guelph Storm (OHL)
6-3
Val-d'Or Foreurs (QMJHL), London Knights (OHL)
2015
Oshawa Generals (OHL)
Kelowna Rockets (WHL)
2-1 (ot)
Québec Remparts (QMJHL), Rimouski Océanic (QMJHL)
2016
London Knights (OHL)
Rouyn-Noranda Huskies (QMJHL)
3-2 (ot)
Red Deer Rebels

(WHL),
Brandon Wheat Kings (WHL)

2017
Windsor Spitfires (OHL)
Erie Otters (OHL)
4-3
Saint John Sea Dogs (QMJHL), Seattle Thunderbirds (WHL)
2018
Acadie-Bathurst Titan (QMJHL)
Regina Pats (WHL)
3-0
Swift Current Broncos (WHL), Hamilton Bulldgos (OHL)
2019
(to be hosted by Halifax Mooseheads)
2020
(to be hosted by Kelowna Rockets