The McKenzie Cup is the Pacific Region qualifying tournament for a spot in the Allan Cup.  The provincial Senior AAA champions of British Columbia (Savage Cup) and Alberta (Alberta Senior AAA Champions) meet to determine the region's representative at that year's Allan Cup tournament.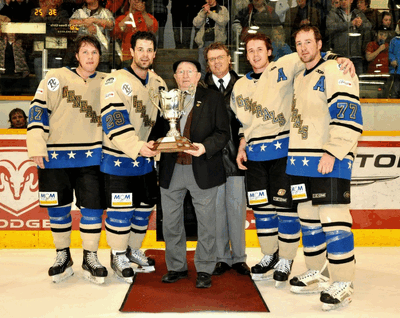 It is unclear when the event actually started being staged. No specific mention has been made of the event prior to 2003. The Allan Cup had gone from an East-West final format to a round robin format with regional qualifiers starting with the 1992 tournament. 
In some years (2006, 2010, and 2013) the event was not held due to a lack of teams from other regions of the country (either Atlantic Canada or Quebec) as when a region that is guaranteed a spot in the Allan Cup does not have a team qualify, the spot will traditionally go to a team from the host branch and thus negated the need for a regional qualifier tournament as the host, the BC Champion and the Alberta champion would all earn spots in the tournament when the event was held in either BC or Alberta.  In 2015 and 2016 the event was not held as the Powell River Regals withdrew from qualifying early in the 2014-15 season and did not compete at the Senior AAA level for 2015-16.
The list below indicates regional representatives at the Allan Cup from 1992 to 2002 and the Alberta-British Columbia Champion from 2003 onward.
Winners
note: Allan Cup champions in bold
2022 Allan Cup Cancelled
2021 Allan Cup Cancelled
2020 No event (Alberta champion as there is no BC entry-Alberta championship was cancelled due to COVID-19 pandemic)
2019 No event (default-No BC entry)
2018 No event (default-No BC entry)
2017 Lacombe Generals (2016-17 Chinook Hockey League Season playoff champion due to BC teams withdrawal)
2016 Bentley Generals (default-No BC entry)
2015 Bentley Generals (default-No BC entry) South East Prairie Thunder Win Allan Cup
2013 No event (not required) Allan Cup held in Red Deer, AB hosted by Bentley Generals Bentley Generals win Allan Cup
2010 No event (not required) Allan Cup held in Fort St. John, BC Fort St. John Flyers win Allan Cup
2006 No event (not required) Allan Cup held in Powell River, BC Powell River Regals win Allan Cup
2002 Stony Plain Eagles (event not required)
1999 Powell River Regals (not held-Regals Pacific rep at Allan Cup) Stony Plain Eagles win Allan Cup
1997 Stony Plain Eagles (not held-Eagles Pacific rep at Allan Cup) Powell River Regals win Allan Cup
1995 Powell River Regals (not held-Regals Pacific rep at Allan Cup)
1993 No event (not required) due to lack of teams from Eastern Canada event held in Quesnel, BC