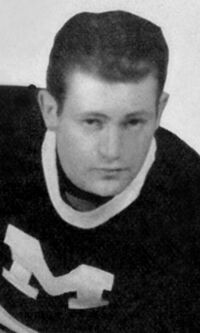 Max Kaminsky (born April 19, 1913, Niagara Falls, Ontario, Canada – May 5, 1961) was a professional ice hockey centre who played in the National Hockey League for the Ottawa Senators, St. Louis Eagles, Boston Bruins and Montreal Maroons.
He started out with the hometown Niagara Falls Cataracts (junior & senior) for five seasons (1929–34). He then played for the Ottawa Senators later in the 1933-34 season. When the team moved to St. Louis the next season, Kaminsky went with them.
Part way into the season, he was traded from the Eagles to the Boston Bruins on December 4, 1934. He successfully centered the Bruins first line but his play declined in 1935-36. He then played for the Montreal Maroons in 1936-37.
From 1936-37 on he finished up his career in the American Hockey League. Kaminsky retired as a player in 1945.
He was player-coach of the Pittsburgh Hornets in 1944-45 and then coach for the next two seasons. He also coached the Philadelphia Falcons of the Eastern Hockey League in 1951-52.
Gallery
[
]
External links
[
]