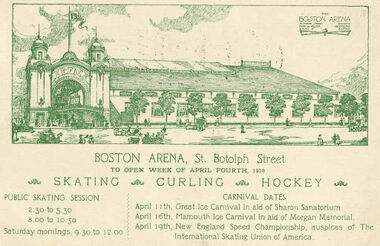 Matthews Arena, formerly known as Boston Arena, is claimed to be the oldest hockey arena in the world which opened in 1910. However, due to the December 18, 1918 fire and a second fire in 1948, which lead to the facility being rebuilt; the distinction actually belongs to the Calumet Colosseum Ice Rink in Calumet, Michigan was built and has been continuously used in the same structure since 1913.
It has been the home of the Northeastern University men's team since the program was formed during the 1929-30 season.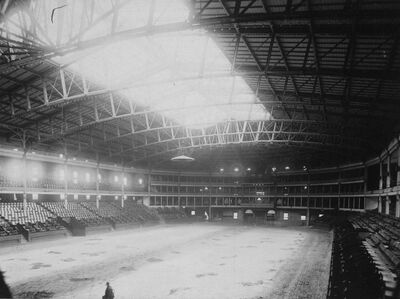 The original structure was destroyed in a fire on December 18 1918.  The facility was then rebuilt.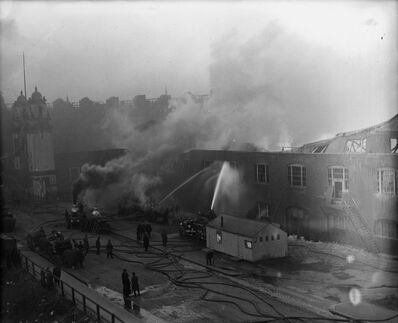 The facility also suffered extensive damage in a 1948 fire.
The Arena also served as the Boston Bruins home rink as well as the home floor for the Boston Celtics before the Boston Garden was built.
The ice surface is 90' X 200' and though the rink can fit 6,000 including standing room seating capacity is 4,500.
Matthews Arena has also been the host for now defunct pro teams including the New England Whalers and the Boston Olympics. As the first hockey arena in Boston it also was the home ice for other college teams including Boston College, Boston University, Harvard, MIT, and Tufts. The Arena was also the original home of the Beanpot and the ECAC Tournament.
Matthews Arena has also been the site of professional boxing. Such renowned boxers as Jack Dempsey, Gene Tunney and Joe Louis all fought at the Arena. The immortal Babe Ruth also played pick up hockey at the Arena during his years as a pitcher with the Boston Red Sox.
Numerous Presidents have spoken at the arena including Teddy Roosevelt, Franklin Delano Roosevelt, John F. Kennedy, and William Jefferson Clinton. Other speakers at the Arena have included Charles Lindbergh, Amelia Earhardt, James Michael Curley, Reverend Billy Graham, Admiral Chester Nimitz and General Dwight D. Eisenhower.
In 1993, the Arena also hosted a sad day in Northeastern History: The funeral of Northeastern basketball great and Celtic All-Star Reggie Lewis.

This entry is a stub. You can help the Ice Hockey Wiki by expanding it. Click the "edit" button to add information.