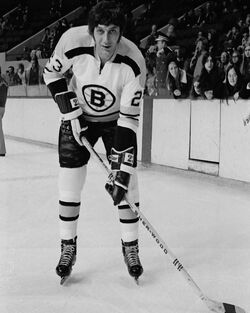 Matt Ravlich (born July 12, 1938 in Sault Ste. Marie, Ontario) is a retired Canadian ice hockey defenceman.
Ravlich started his National Hockey League career with the Boston Bruins. He would also play with the Detroit Red Wings, Chicago Black Hawks, and Los Angeles Kings. His career would last from 1963 to 1973.
He played as a junior in the Chicago Black Hawks' system with the Galt Black Hawks,the St. Catharines TeePees, and the Trois Rivieres Ducs from 1954-59.
Ravlich fell in with the Providence Reds when the Boston Bruins claimed his rights from the Blackhawks during an Intra-League Draft in 1961. Two years later, he finally saw NHL ice on the Bruins' blueline. The dream lasted only two games, however, before heading back to the AHL where he toiled until the Blackhawks reclaimed his rights and gave him a full-time job in 1964-65.
In 1967, Ravlich broke his leg in a contest against the Detroit Red Wings. The injury never completely healed. As such, he missed the regular season but returned for the playoffs in time to catch a puck above his eye and twelve stitches. By 1969, the Detroit Red Wings picked Ravlich off in an Intra-League Draft. He stayed around for 46 games before joining the Los Angeles Kings for a season and a half.
Once on waivers, he came full circle landing back with the Boston Bruins again where he played in 30 games between trips to the minors with the Boston Braves.
Ravlich retired from hockey in 1974.
External links
[
]