The MassMutual Center is a 6,679-seat multi-purpose arena in Springfield, Massachusetts, United States. It is home to the Springfield Falcons ice hockey team and in fall of 2009 will be home to the Springfield Armor of the NBA Development League.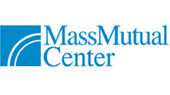 Formerly known as the Springfield Civic Center, the facility opened in 1972 and was at the time one of the largest arenas in the region. It was owned and operated by the city for eighteen years before going into private hands for the next six. In 1996, it reverted to city control. A few years later, the Massachusetts Legislature authorized a major renovation of the facility and transferred ownership to the Massachusetts Convention Center Authority. The renovation included work on the arena and construction of new exhibition space facing Main Street. A plaza and bank used to be on that plot of land. In 2005 the Center was renamed when MassMutual Financial Group entered into a naming rights agreement for the arena and convention center. Its grand opening (or reopening depending on perspective) occurred on Oct 1, 2005.
The arena hosted the Hartford Whalers of the National Hockey League while the Hartford Civic Center was undergoing renovations because of a 1978 roof collapse.
The building has hosted an American Hockey League franchise since it opened in 1972. Between 1972 and 1993, the the building hosted the Springfield Indians franchise, which is now known as the Peoria Rivermen. From 1994 to 2016  the Center had been the site of home games of the Springfield Falcons.  In the spring of 2016 the team was sold and moved to Tucson, Arizona and the Portland Pirates franchise was sold to new ownership in Springfield and moved into the arena as the Springfield Thunderbirds for the 2016-17 season.
The American International Yellow Jackets from nearby American International College announced they would start playing there home games in the arena starting with the 2016-17 season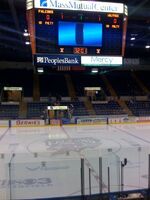 External links