Mass-Dartmouth Corsairs

Institution:
University of Massachusetts Dartmouth
Location:
Dartmouth, Massachusetts
School founded:
1895
Enrollment:
8,513
Colors:
Blue and Gold
Home Arena:
Hetland Arena
Men's Team
Conference:
Massachusetts State Collegiate Athletic Conference
Coach:
Erik Noack
Conf. Championships:
1983, 1984, 1985, 1989, 1992, 1995, 1997, 1998, 2006, 2007, 2008, 2013
The Mass-Dartmouth Corsairs are a Men's Division III team in Massachusetts State Collegiate Athletic Conference.
The team is based out of the Hetland Arena in New Bedford, Massachusetts. From information on the team's website this appears to be the team's only home during its existence. The school itself is located in Dartmouth, Massachusetts, which is located between Fall River and New Bedford along the area known as the South Coast in southeastern Massachusetts where the original two campuses that were merged to create the Dartmouth-based school were located prior to the 1960's. The school was known as Southeastern Massachusetts University until 1991 when the school was renamed and merged into the University of Massachusetts system.
Program History
Edit
The program was established for the 1974-75 season. The team's first coach was Joe Prenda who built a 82-64-1 record in 8 seasons. The team mhd its first ECAC tournament appearance in 1981. In 1982 Alex Kogler took over as coach and lead the team to back-to-back ECAC championships before leaving after compiling a 32-12-1 record in two seasons. John Rolli took over as coach in 1984, leading the team to 3 conference championships in his first five seasons and has not looked back. He has built a 570-208-39 record with the team as of the start of the 2015-16 season
The program was part of the ECAC from at least the 1980-81 season until joining the Massachusetts State Collegiate Athletic Conference in 2009. The program has won 12 ECAC conference tournaments, one MASCAC conference tournament and made NCAA Divsion III tournament appearances in 2006, 2007, 2008, and 2013.
For more detail please see Mass-Dartmouth Corsairs men's ice hockey.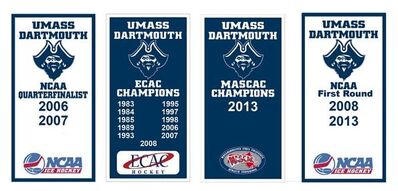 Community content is available under
CC-BY-SA
unless otherwise noted.