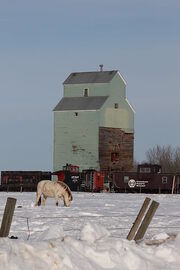 Maskwacis previously known as Hobbema from 1891 until 2014 is a hamlet in central Alberta, Canada. The whole area was originally known as Maskwacis, which means Bear Hills in the Cree language. In 1891 when the Calgary and Edmonton Raiway went through the area it was renamed Hobbema after Dutch painter Meindert. Hobbema.
The Hamlet itself had a population of 60 in 2016. The population of the four nations which surrounded Maskwacis was 7,582 as of 2011.
It is about 70 kilometres south of Edmonton.
Teams
An expansion team has been awarded to Maskwacis in the North Central Hockey League (Alberta) for the 2018-19 season.
(Chinook Hockey League, 1978-1982)
(Chinook Hockey League, 1990-1993)
Players
Arenas
Four Nations Arena

Ermineskin Arena
External Links