Martina Velickova
Position
Forward
Height
Weight
5 ft 4 in (0 m)
121 lb (55 kg)
Born
February 17, 1989,
Presov, Slovakia
Pro Career
2009 – present
Martina Velickova (born February 17, 1989 in Presov, Slovakia), is a Slovak female forward. Velickova participated in the 2010 Vancouver Winter Games for Slovakia.[1]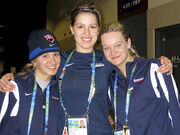 Velickova, along with fellow Slovakian national team members Zuzana Tomcikova, and Iveta Karafiatova played on boys' teams until Slovakian league rules stated they could not play once they turned 16. All three continued their careers by playing hockey in Saskatchewan for head coach Barrett Kropf at Caronport High School in 2004.[2] Karafiatova, Tomcikova, and Velickova played for the Caronport Lady Cougars but Karafiatova and Tomcikova also played on the boys team.
She was part of the Slovakian roster that defeated Bulgaria by an 82-0 score in September 2008 in the Olympic Pre-Qualification tournament in Latvia. In the win, she accumulated 17 points.[3] In 2009, she competed in the 2009 IIHF World Women's Championship Division I, which was played in Graz, Austria. She was part of the Slovak team that qualified for the top division of the 2011 World Women's Championships.
At the 2011 IIHF Women's World Championships, Slovakia played Kazakhstan in a best of three relegation series. In the second game, Velickova beat Daria Obydennova for the only goal in the shootout as Slovakia won the relegation series.[4]
She played for Slovakia in the 2010 Olympics. It was the first time that Slovakia competed in women's ice hockey outside of Europe.[5] Of note, she was the captain of the Slovakian national team at the 2010 Vancouver Winter Games. Her first Olympic women's ice hockey game came on February 13, 2010 against Canada. Slovakia lost the game by an 18-0 mark. Her first Olympic points came on February 20, 2010. Velickova assisted on both goals in a 4-2 loss to Russia.[6] She would finish with three assists in the Olympic tournament as Slovakia finished in eighth place.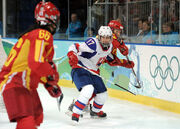 Year
GP
Goals
Assists
Points
PIM
+/-
2010 Vancouver Olympics
5
0
3
3
2
Community content is available under
CC-BY-SA
unless otherwise noted.