The Markham Waxers are a Central Division Hockey (OHA) Junior "A" ice hockey team. The Waxer organizations are from Markham, Ontario, Canada.
History
Originally known as the Markham Jets, the Waxers gained their current name in 1961, named after "International Wax Incorporated." The team won the 1941 Ontario Junior "C" Championship and won the Ontario Junior "B" Sutherland Cup Championship in 1969 and 1972. At one point, the Waxers were the farm team of the National Hockey League's Toronto Maple Leafs and boasts over 100 NHL and World Hockey Association graduates. The Waxers were formerly a part of the Metro Junior A Hockey League before joining the Ontario Provincial Junior A Hockey League.
During the 2002 Season the Waxers celebrated 100 years of association with the OHA. They had special 3rd jerseys made up and All players were numbered from 100-198, by adding a 1 to the front of the player's regular number. One of these jerseys was donated to the Hockey Hall of Fame, as they believe only one other team in history has ever used such numbering for its players. They finished that season by winning the South Division championship the franchise's first Championship in many many years.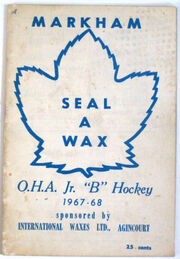 1968: Sarnia Legionnaires defeated Markham Waxers 4-games-to-none
1969: Markham Waxers defeated Strathroy Rockets 4-games-to-2
1972: Markham Waxers defeated St. Marys Lincolns 4-games-to-1
Notable alumni
Season-by-season results
Season
GP
W
L
T
OTL
GF
GA
P
Results
Playoffs
1963-64
32
15
11
6
-
162
124
36
6th Metro B
1964-65
36
14
19
3
-
167
196
31
8th Metro B
1965-66
35
18
9
8
-
149
128
44
3rd Metro B
1966-67
36
22
11
3
-
217
105
47
2nd Metro B
1967-68
36
17
17
2
-
155
152
36
5th Metro B
Won League
1968-69
36
26
6
4
-
167
132
56
1st Metro B
Won League, Won SC
1969-70
36
26
6
4
-
209
133
56
2nd Metro B
1970-71
44
24
18
2
-
209
193
50
6th Metro B
1971-72
44
37
4
3
-
308
120
77
1st Metro B
Won League, Won SC
1972-73
35
19
13
3
-
174
150
41
3rd Metro B
1973-74
44
13
25
6
-
168
222
32
10th OPJHL
1974-75
44
15
19
10
-
174
192
40
10th OPJHL
1975-76
44
19
20
5
-
178
197
43
6th OPJHL
1976-77
44
23
10
11
-
237
195
57
3rd OPJHL
1977-78
50
17
27
6
-
229
284
40
8th OPJHL
1978-79
50
17
27
6
-
220
242
40
7th OPJHL
1979-80
44
14
23
7
-
233
253
35
10th OPJHL
1980-81
44
18
25
1
-
247
251
37
8th OPJHL
1981-82
50
26
19
5
-
304
265
57
4th OJHL
Lost Final
1982-83
48
18
24
6
-
227
249
42
7th OJHL
1983-84
42
18
19
5
-
228
199
41
5th OJHL
1984-85
48
20
25
3
-
229
263
43
5th OJHL
1985-86
50
25
16
9
-
244
263
59
2nd OJHL
1986-87
44
14
22
7
-
210
231
35
4th OJHL
1987-88
44
3
38
3
-
130
333
9
14th CJBHL
1988-89
42
10
29
3
-
158
281
23
14th CJBHL
1989-90
42
12
19
11
-
196
233
35
8th CJBHL
1990-91
42
16
21
5
-
163
193
37
10th CJBHL
1991-92
42
17
20
5
-
213
208
39
10th CJBHL
1992-93
48
33
13
2
-
293
222
69
4th CJBHL
1993-94
40
19
17
4
-
199
191
43
4th OPJHL-E
1994-95
48
15
30
3
-
231
273
36
7th OPJHL-E
1995-96
52
30
17
5
-
241
204
65
5th Metro A
Lost Quarter-final
1996-97
50
27
19
4
-
246
221
58
7th Metro A
1997-98
50
24
19
7
-
247
192
55
6th Metro A
1998-99
51
29
16
4
2
249
195
64
5th OPJHL-C
1999-00
48
24
18
3
3
211
193
54
4th OPJHL-S
2000-01
49
28
18
2
1
223
182
59
3rd OPJHL-S
2001-02
49
26
17
4
2
223
213
58
3rd OPJHL-S
2002-03
49
30
12
6
1
239
173
67
2nd OPJHL-S
Lost Semi-final
2003-04
49
24
17
3
5
219
207
56
4th OPJHL-S
2004-05
49
30
16
3
0
213
160
63
4th OPJHL-S
2005-06
49
29
14
5
1
193
152
64
2nd OPJHL-S
Lost Conf. Final
2006-07
49
31
16
2
0
199
158
64
3rd OPJHL-S
Lost Conf. SF
2007-08
49
36
11
-
2
259
168
74
3rd OPJHL-S
2008-09
53
36
15
-
2
239
200
74
2nd OJHL-C
2009-10
50
29
15
0
6
210
175
64
3rd CCHL-E
External links