Mark John Douglas Messier (born January 18, 1961, in Edmonton, Alberta) is a former ice hockey centreman of the National Hockey League. He spent a quarter of a century in the NHL (1979-2004) with the Edmonton Oilers, New York Rangers, and Vancouver Canucks. He also played professionally with the World Hockey Association's Indianapolis Racers and Cincinnati Stingers. At the time of his retirement, he was the last former WHA player still active in professional hockey, as well as the last active player who had played in the NHL in the 1970s.
Messier is widely considered among the best NHL players of all time.[1] He is second on the all-time career lists for regular season points (1887), playoff points (295) and regular season games played (1756). He won six Stanley Cups with the Oilers and Rangers, and is the only professional athlete to captain two different teams to championships. In 2007 he was inducted into the Hockey Hall of Fame.
Indianapolis Racers (1978)
[
edit
|
edit source
]
Mark Messier played Tier II Alberta Jr. Hockey with the St. Albert Saints. In 54 games, Messier had 74 points and 194 Penalty Minutes. [2] Messier also played a few games with the Portland Winter Hawks. Mark's father Doug once played junior hockey with Pat Stapleton, the coach of the Indianapolis Racers. Doug called him and got Mark a contract to play hockey in Indianapolis for $30,000. [2] Mark signed the 5-game tryout contract at the age of 17. He failed to register a point and was released just before the Racers folded.
Cincinnati Stingers (1978-79)
[
edit
|
edit source
]
Shortly after being released by Indianapolis, Mark was signed as a free agent by the Cincinnati Stingers. While with the Cincinnati Stingers, Messier was on a line with Robbie Ftorek. [3] Ftorek was one of the top scorers in the league but Messier managed to get only one goal. He would play 47 games for the Stingers tallying only one goal and ten assists. While in Cincinnati, Messier was teammates with future Hall of Famer Mike Gartner, future NHL coach Barry Melrose, and future NHL referee Paul Stewart. When he retired, Messier was the last former WHA player still active on the ice as a player.
Edmonton Oilers (1979-1991)
[
edit
|
edit source
]
Messier was drafted in the 3rd round, 48th overall, by the Edmonton Oilers in the 1979 NHL Entry Draft. Messier was renowned as a fierce, tough competitor whose intense leadership in the locker room was as important as the goals he scored on the ice. He wasn't initially known as a scorer, but his offensive numbers increased steadily over his first few years with the Oilers. In 1981-82, he registered his only 50-goal season. For most of his tenure with the Oilers, he played on a line with Glenn Anderson.
Initially a left winger (he was named to the NHL First All-Star Team in 1982-83 on left wing), Messier switched to centre in the 1984 playoffs, and the results were spectacular. Though Messier ranks second in all-time scoring with 1,887 points (694 goals and 1,193 assists) in the regular season, his greatness will always be measured in terms of playoff achievements. In Game 3 of the 1984 Finals, for example, with his Oilers trailing the four-time defending champion New York Islanders by a goal, it was Messier's goal that sparked a comeback by the Oilers. By the end of the series, Messier had earned the Conn Smythe Trophy, awarded to the most valuable player of the playoffs.
He won four more Cups with the Oilers, including 1990, when he captained the Oilers to a five-game victory over the Boston Bruins. Though the Oilers had been a 1980s powerhouse, the 1990 victory, which came two years after Wayne Gretzky was traded away, surprised many. Messier also won the Hart Trophy as league MVP that season.
A year later, in one of many cost-cutting moves by Edmonton management, Messier was traded to the New York Rangers.
New York Rangers (1991-1997)
[
edit
|
edit source
]
In his first seasoan with the Rangers, Messier won his second Hart Trophy and guided the Rangers to the best record in the NHL. However, they were ousted in six games by the Pittsburgh Penguins in the second round. A year later they missed the playoffs.
In [[1993-94 NHL season|1993-94, the Rangers rebounded to once again finish first overall, and this time were expected to win the Cup. Messier was already known as a hockey superstar, but the birth of the Messier legend came as a New York Ranger in the 1994 Eastern Conference Finals against the rival New Jersey Devils. Down 3-2 in the best of seven series, Messier confronted the New York media and publicly guaranteed a Game 6 victory. In a feat comparable in New York sports history to Babe Ruth's called shot and Joe Namath's Super Bowl III guarantee, he backed up his promise by scoring a natural hat trick in the third period which helped the Rangers erase a two-goal deficit. The Rangers went on to win the series and the Stanley Cup (with Messier scoring the Cup winning goal in game 7) — their first in 54 years.
The 1994 Stanley Cup would be the high watermark of the second half of Messier's career. In 1995-96, Messier came as close as he had since 1991-92 to breaking the 100-point plateau when, at the age of 35, he recorded a 99-point season. With Wayne Gretzky joining the Rangers in 1996-97, the team reached the Eastern Conference Finals. The Rangers were defeated in the conference finals by the Philadelphia Flyers that year. An 84-point year during the 1996-97 regular season encouraged the Vancouver Canucks to sign the 36-year old to a high-priced free agent contract, ending the brief reunion of Messier and Gretzky being together again on the same team after just one season.
Vancouver Canucks (1997-2000)
[
edit
|
edit source
]
It was a high-profile move, with Messier returning to Canada after six years with the Rangers, but the honeymoon did not last. Before playing the season, Messier was given the team captaincy, taken from Trevor Linden. Shortly after Messier's acquisition, Trevor Linden was traded by Mike Keenan to the New York Islanders. Sixty points in 1997-98 was his worst mark in a full year since his first NHL season; his next two seasons were shortened by injury. His demand that the #11 the team unofficially retired in honour of Wayne Maki be given to him hurt his image as well.[4] He finished with 158 points over three years, and, having become unpopular with Canucks fans, left at the end of the 1999-2000 season.
Back on Broadway: New York Rangers (2000-2004)
[
edit
|
edit source
]
After his tenure with the Canucks, he returned to New York to try to lead the Rangers back to glory. The Rangers held a press conference where they symbolically buried a hatchet, and Messier made an ill-fated "guarantee" of a playoff berth.[5] Messier was also given back the team captaincy upon his return to the Rangers, handed over to him personally by Brian Leetch.
Messier's 67-point season as a 40-year old in 2000-01 was a mark better than any he established in his Vancouver years, showing that he could still be a valuable presence, but the Rangers missed the playoffs for the fourth year running. After missing half of 2001-02 due to an arm injury, Messier recorded only 23 points, and finished up next year with a 40-point campaign. On June 30, 2003, the Rangers traded Messier to the San Jose Sharks for future considerations. However, the Rangers resigned Messier again as an unrestricted free agent on September 3.
The 2003-04 season had been widely expected to be Messier's last. On November 4, 2003 against the Dallas Stars, Messier scored a pair of goals to vault past Gordie Howe into second on the all-time point scoring list. Eleven days later, Messier was the only active player to play in the legends game at Edmonton's Heritage Classic, suiting up with the Oiler alumni and making many light-hearted comments about being Edmonton's "ringer." During his last game at Madison Square Garden, Messier received applause every time he touched the puck and, after the game, received a standing ovation while he skated around the Garden and bowed to every section of the stands.[6] At the age of 43, most media outlets believed Messier had decided to quit. The NHL lockout eliminated the next season. All speculation ended on September 12, 2005, when he announced his retirement on ESPN radio.[7] He is generally considered one of the greatest hockey players and greatest sports leaders of all time.
Post Retirement (2005-Present)
[
edit
|
edit source
]
Messier retired eleven games behind Howe's NHL record 1,767 regular season games played. Messier holds the record for most NHL regular season and playoff season games played at 1,992. Messier is one of a handful of players to have played 25 NHL seasons, doing so over four decades.
On January 12, 2006 during a very emotional ceremony that featured most of the 1994 Stanley Cup team, the New York Rangers retired his number 11 in a game against the Edmonton Oilers. Fans unable to attend the game put their tickets back on the market, with front row seats being resold up to the price of $30,000. The ceremony lasted 75 minutes, making it the longest of its kind in the history of professional sports.During the game, the Rangers defeated the Oilers. [1] His is the 4th number retired by the Rangers. His number was retired by the Edmonton Oilers on February 27, 2007 against the Phoenix Coyotes, coached by former teammate Wayne Gretzky.[8]
In February 2007, Messier publicly expressed interest in returning to the NHL, in the form of General Manager for the Rangers, however current GM Glen Sather responded by saying he has no plans of stepping down from his position.[9] With the departure of Assistant GM Don Maloney from the Rangers organization in May 2007, Messier's name has been attached to possible replacements,[10] however in July 2007 Jim Schoenfeld was announced as Maloney's replacement.
On November 15, 2010, Mark Messier made his coaching debut. He was behind the bench for the Canadian men's national hockey team at the Deutschland Cup. His team lost to Germany in his debut by a 4-3 tally. Hockey Canada also announced that Messier shall be the Team Canada coach for the Spengler Cup in Davos, Switzerland, December 26-31.[11]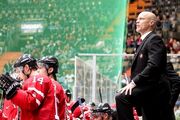 Messier attended St. Francis Xavier high school in Edmonton as he played junior hockey where his father Doug was his coach and mentor for his early years, where he played with the Spruce Grove Mets. Mark's brother Paul Messier was drafted by the Colorado Rockies 41st overall in the 1978 NHL Amateur Draft, but he only played nine games with the club in 1978–79 before embarking on a long career in the German Bundesliga. His cousins Mitch and Joby also skated for NHL clubs. Joby was even briefly Mark's teammate on the Rangers. One of his cousins, Brian, is keeping up the family hockey tradition in Texas, playing with the Ice Hawks.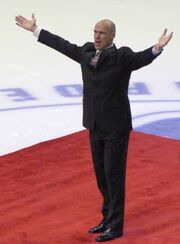 Messier's son Lyon, who was born on August 16, 1987, is a former defenseman who spent part of two seasons with the South Carolina Stingrays of the ECHL. Lyon also split time with the Charlotte Checkers of the ECHL and the New Mexico Scorpions of the CHL during the 2008-09 season. Lyon's mother is former model Lesley Young. His current girlfriend and soon to-be wife, Kim Clark, gave birth to Mark's second son, Douglas Paul, on July 15, 2003, and daughter Jacqueline Jean in August 2005. Messier and his family reside in Hilton Head Island, South Carolina.
After his retirement, Messier appeared in a Versus television special in the United States highlighting his "Mark Messier Leadership Camp", which allowed New Yorkers to mix seminars in leadership and working with others with hockey games against former Rangers, including a scrimmage on the Garden ice.
Messier was featured in a Lay's chips campaign that aired in Canada in the late 1990s and early 2000s. The commercials originally featured Messier being challenged to a bet by a local hockey fan, who bets that Messier cannot eat just one potato chip, in reference to the Lay's slogan "bet you can't eat just one." Messier loses the bet, and ends up playing in a local 'beer league' hockey game, which he easily dominates. Later variations would have Messier himself making the same bet. He was also featured in Lay's ads in America where he asked neighbors to borrow ice, sugar or a hairdryer (playing on his bald head) to get chips.
Almost thirty years after having played with the Saints, Messier is a legend in the Edmonton suburb of St. Albert, Alberta. One of the rinks in the local Campbell Arena bears Messier's name.
More recently, Messier has found time to do some work as a hockey analyst. He's occasionally seen on NHL on Versus as a studio analyst, was an in-game analyst for The NHL All-Star Game on Versus, and has been a guest commentator on NHL on NBC.
In Edmonton, a section of St. Albert Trail between St. Albert and the City of Edmonton, has been renamed to Mark Messier Trail as of February 26, 2007.
On November 12, 2007, Messier was inducted into the Hockey Hall of Fame in the players category.
Messier is an advocate for preventative healthcare and spokesperson for Cold-fX. He is also involved in many philanthropic causes, most recently The New York Police and Fire Widows' and Children's Benefit Fund, for which he serves on the Board.
Messier has also become a hotelier, owning the small, yet popular, Runaway Hill Club on the famous pink sand beach on Harbour Island in the Bahamas. He also regularly fishes for marlin on his boat 'Wani Kanati'.
Notable awards & achievements
[
edit
|
edit source
]
1983-84 - Stanley Cup Champion
1984-85 - Stanley Cup Champion
1986-87 - Stanley Cup Champion
1987-88 - Stanley Cup Champion
1989-90 - Stanley Cup Champion
1993-94 - Stanley Cup Champion
1989-90 - Hart Memorial Trophy Winner
1991-92 - Hart Memorial Trophy Winner
1983-84 - Conn Smythe Trophy Winner
1989-90 - Lester B. Pearson Award Winner
1991-92 - Lester B. Pearson Award Winner
1981-82 - First-Team All-Star Left Wing
1982-83 - First-Team All-Star Left Wing
1989-90 - First-Team All-Star Centre
1991-92 - First-Team All-Star Centre
1983-84 - Second-Team All-Star Left Wing
Played in fifteen NHL All-Star Games in 1982, 1983, 1984, 1986, 1988, 1989, 1990, 1991, 1992, 1994, 1996, 1997, 1998, 2000 and 2004
Played for the Edmonton Oilers Heritage Classic alumni team while a member of the New York Rangers.
The only professional athlete to have captained two different championship teams (Edmonton Oilers and New York Rangers)
In 1998, he was ranked number 12 on The Hockey News' list of the 100 Greatest Hockey Players.
On November 13, 2006, the National Hockey League created the Mark Messier Trophy, a monthly leadership award.
His 1,887 points in the regular season are the most of any player without winning a single scoring title.
He was the last active player that had played in the 1970s.
He was selected as an inductee to the hockey hall of fame in June 2007 with the induction ceremony taking place November 2007.
August 9th, 1979- Edmonton Oilers' third round choice, 48th overall in the 1979 NHL Entry Draft
July 13th 2000- Signed as a free agent with the New York Rangers.
June 20th, 2003- Traded by the New York Rangers to the San Jose Sharks in exchange for San Jose's 2004's 4th round draft choice.
September 5, 2003- Signed as a free agent with the New York Rangers.
June 12th, 2004- Officially announced retirement.
Regular Season
 
Playoffs
Season
Team
League
GP
G
A
Pts
PIM
GP
G
A
Pts
PIM
1976-77
Spruce Grove Mets
AJHL
57
27
39
66
91
--
--
--
--
--
1977-78
St. Albert Saints
AJHL
54
25
49
74
194
--
--
--
--
--
1977-78
Portland Winter Hawks
WHL
--
--
--
--
--
7
4
1
5
2
1978-79
St. Albert Saints
AJHL
17
15
18
33
64
--
--
--
--
--
1978-79
Indianapolis Racers
WHA
5
0
0
0
0
--
--
--
--
--
1978-79
Cincinnati Stingers
WHA
47
1
10
11
58
--
--
--
--
--
1979-80
Houston Apollos
CHL
4
0
3
3
4
--
--
--
--
--
1979-80
Edmonton Oilers
NHL
75
12
21
33
120
3
1
2
3
2
1980-81
Edmonton Oilers
NHL
72
23
40
63
102
9
2
5
7
13
1981-82
Edmonton Oilers
NHL
78
50
38
88
119
5
1
2
3
8
1982-83
Edmonton Oilers
NHL
77
48
58
106
72
15
15
6
21
14
1983-84
Edmonton Oilers
NHL
73
37
64
101
165
19
8
18
26
19
1984-85
Edmonton Oilers
NHL
55
23
31
54
57
18
12
13
25
12
1985-86
Edmonton Oilers
NHL
63
35
49
84
68
10
4
6
10
18
1986-87
Edmonton Oilers
NHL
77
37
70
107
73
21
12
16
28
16
1987-88
Edmonton Oilers
NHL
77
37
74
111
103
19
11
23
34
29
1988-89
Edmonton Oilers
NHL
72
33
61
94
130
7
1
11
12
8
1989-90
Edmonton Oilers
NHL
79
45
84
129
79
22
9
22
31
20
1990-91
Edmonton Oilers
NHL
53
12
52
64
34
18
4
11
15
16
1991-92
New York Rangers
NHL
79
35
72
107
76
11
7
7
14
6
1992-93
New York Rangers
NHL
75
25
66
91
72
--
--
--
--
--
1993-94
New York Rangers
NHL
76
26
58
84
76
23
12
18
30
33
1994-95
New York Rangers
NHL
46
14
39
53
40
10
3
10
13
8
1995-96
New York Rangers
NHL
74
47
52
99
122
11
4
7
11
16
1996-97
New York Rangers
NHL
71
36
48
84
88
15
3
9
12
6
1997-98
Vancouver Canucks
NHL
82
22
38
60
58
--
--
--
--
--
1998-99
Vancouver Canucks
NHL
59
13
35
48
33
--
--
--
--
--
1999-00
Vancouver Canucks
NHL
66
17
37
54
30
--
--
--
--
--
2000-01
New York Rangers
NHL
82
24
43
67
89
--
--
--
--
--
2001-02
New York Rangers
NHL
41
7
16
23
32
--
--
--
--
--
2002-03
New York Rangers
NHL
78
18
22
40
30
--
--
--
--
--
2003-04
New York Rangers
NHL
76
18
25
43
42
--
--
--
--
--
NHL Totals
1756
694
1193
1887
1910
236
109
186
295
244
Community content is available under
CC-BY-SA
unless otherwise noted.