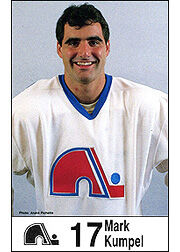 Mark Alan Kumpel (born March 7, 1961 in Wakefield, Massachusetts) is a former American ice hockey player.
Kumpel played for the University of Massachusetts Lowell from 1980 to 1983. In 1983 he joined the United States national team, playing there for two years, including the 1984 Olympics.
Selected by the Quebec Nordiques 108th overall in the 1980 NHL Entry Draft, Kumpel finally joined them in 1984-85 after the Olympics. He split time between the Nords and the minors and was traded to the Detroit Red Wings in 1987.
One year later he was sent to the Winnipeg Jets. He got in three seasons with the Jets before ending his career in the minors in 1993.
After his playing career, Kumpel moved into coaching. He was the head coach of the Nashville Knights from 1994 to 1996, the Dayton Bombers from 1996 to 1998, and the Portland Pirates in 1998-99.
Community content is available under
CC-BY-SA
unless otherwise noted.