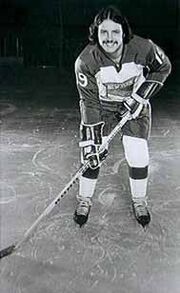 Mark Patrick Heaslip (Born - December 26, 1951 in Duluth, Minnesota) is a retired American professional ice hockey forward who played 117 games in the National Hockey League for the New York Rangers and Los Angeles Kings.
He played for the University of Minnesota-Duluth from 1971 to 1973 and was signed as a free agent by the Los Angeles Kings in 1973. Heaslip played two solid seasons for the Springfield Kings from 1973 to 1975 but was never called up to the NHL. He split the 1975-76 season between the Oklahoma City Blazers and the Fort Worth Texans.
In 1976 he was traded to the New York Rangers for John Campbell. Heaslip got into 19 games for the Rangers in 1976-77 and another 29 in 1977-78. He also played for the United States in the 1977 World Championship.
Heaslip signed as a free agent with his old team the Los Angeles Kings in 1978. He played 69 games for the Kings in 1978-79. The Winnipeg Jets claimed him in the 1979 NHL Expansion Draft and assigned him to the Tulsa Oilers.
In all he played in 117 NHL games, scoring 10 goals and 19 assists.
He retired in 1980.
External links