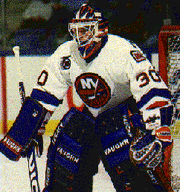 Mark Fitzpatrick (born November 13, 1968 in Toronto, Ontario) is a former professional goaltender. He moved to Kitimat, British Columbia, where he started minor hockey, when he was ten years old. He won the Memorial Cup twice as a member of the Medicine Hat Tigers before going on to a professional career with the Los Angeles Kings, New York Islanders, Florida Panthers, Tampa Bay Lightning and Chicago Blackhawks of the National Hockey League. He retired in 2001.
He was drafted by the Los Angeles Kings in the 2nd round, 27th overall, in the 1987 NHL Entry Draft. He was then traded to the New York Islanders in 1989 for Kelly Hrudey.
Before the 1990-91 NHL season, Fitzpatrick was diagnosed with Eosinophilic Myalgia Syndrome, a rare disease that caused sever muscle cramps, joint pains, and chronic fatigue. Despite that, Fitzpatrick managed to get in some games over the next two seasons. This got him the Bill Masterton Trophy in 1991-92.
After that he played for the Florida Panther, Tampa Bay Lightning, and Chicago Blackhawks. He retired in 2001.
External links