Line 31:
Line 31:
 

*1930-31 [[Truro Bearcats]]

 

*1930-31 [[Truro Bearcats]]

 

*1931-32 [[Dalhousie Rangers]]

 

*1931-32 [[Dalhousie Rangers]]

−

*1932-33 '''[[Moncton Hawks]]'''*

+

*1932-33 '''[[Moncton Hawks]]'''*

−

*1933-34 '''[[Moncton Hawks]]'''*

+

*1933-34 '''[[Moncton Hawks]]'''*

−

*1934-35 '''[[Halifax Wolverines]]'''*

+

*1934-35 '''[[Halifax Wolverines]]'''*

 

*1935-36 [[Moncton Maroons]]

 

*1935-36 [[Moncton Maroons]]

 

*1936-37 [[Moncton Maroons]]

 

*1936-37 [[Moncton Maroons]]

Line 66:
Line 66:
 

*1965-66 [[Moncton Hawks]]

 

*1965-66 [[Moncton Hawks]]

 
 
 
⚫
−

*

 
 
+
⚫
 
 
+

==See Also==

 
+

* [[Bolton Cup]] Eastern Canada Senior Championship (1971-2003)

 
+

* [[Atlantic Cup]] Atlantic Canada Senior Championship (2004-Present)

 
+

* [[Herder Memorial Trophy]] Newfoundland and Labrador Senior Championship (1935-Present)

 
+

* [[Maritime Senior Hockey League]]

 
+

* [[Maritime Senior Hockey League (1947-50)]]

 
+
 
 
 
 
---
Latest revision as of 11:18, 30 June 2019
This is a list of the Maritimes Senior Hockey Champions. This region comprised the provinces of New Brunswick, Prince Edward Island, and Nova Scotia.
They were also, unless noted, the region's representative in the Allan Cup playoffs.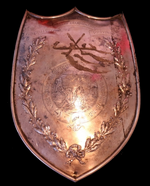 Winners of the championship received the Starr Shield from 1924 to 1948. An earlier version of the Starr Shield was won permanently by the Charlottetown Abegweits in 1923.
History
[
]
The Maritimes Amateur Hockey Association (MAHA) was not affiliated with the Canadian Amateur Hockey Association (CAHA) until the 1927-28 season. The champions before that did not participate in the Allan Cup playoffs.
There were no Allan Cup playoffs in 1944-45 because of restrictions due to World War II.
The MAHA did not participate in the Allan Cup playoffs in 1956-57 because they felt their teams were not competitive.
In 1957-58 only certain MAHA senior teams competed for a spot in the Allan Cup playoffs. The New Glasgow Rangers won that spot. The Bathurst Papermakers won the overall title.
This level of hockey was discontinued by the MAHA after 1965-66.
The Newfoundland Amateur Hockey Association did not join the CAHA until 1966 and thus did not participate in the Maritimes playoffs.
List of Champions
[
]
(*) - denotes won Allan Cup
See Also
[
]