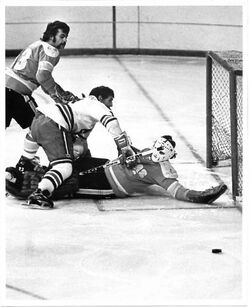 Marcel Paille (December 8, 1932 - October 7, 2002) was a goaltender. Born in Shawinigan Falls, Quebec, Canada, he was a goaltender in the National Hockey League with the New York Rangers, played briefly for the Philadelphia Blazers in the World Hockey Association and is the owner of numerous AHL career playoff records.
After finishing his junior career with the Quebec Citadelles in 1952-53, Paille embarked on a long odyssey of minor pro seasons. A victim of the six team NHL, he would only play in 107 NHL games in a twenty year professional career, all with the New York Rangers.
He did have an excellent career in the American Hockey League, mostly with the Providence Reds. Paille also won the Calder Cup in 1956-57 with the Cleveland Barons and in 1960-61 and 1961-62 with the Springfield Indians.
Paille retired in 1974.
He died of cancer in Quebec City.
Awards and Achievements
QJHL Second All-Star Team (1951, 1952, 1953)
William Northey Trophy (Top Rookie - QHL) (1956)
AHL Second All-Star Team (1957, 1960)
AHL First All-Star Team (1959, 1961, 1962)
Harry "Hap" Holmes Memorial Award (fewest goals against - AHL) (1961, 1962)
WHL Second All-Star Team (1964)
Calder Cup (1957, 1961, 1962)
Records
Most AHL Games Played by a Goaltender, Career - 765
Most AHL Playoff Games Played by a Goaltender, All-Time - 87
Most AHL Playoff Wins by a Goaltender, All-Time - 49
Longest AHL Playoff Shutout Streak - 207:27
Most AHL Playoff Minutes Played, Career - 5,368
Video
Over ten minutes of silent clips from the 1964-65 season featuring Reg Fleming. The Bruins-Rangers game on December 5, 1964, in which a goal by #12 Wayne Maxner is shown, on #23 Marcel Paille. Next, the Bruins-Black Hawks game on December 10, 1964. Lastly, the Bruins-Canadiens game on December 13, 1964 in which Fleming fights with Henri Richard.
External Links