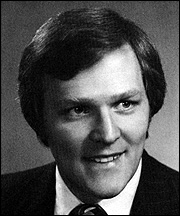 Marcel Aubut, (born January 5, 1948 in Riviere du Loup, Quebec) is a Canadian lawyer, president of the Canadian Olympic Committee and former president and Chief Executive Officer of the Quebec Nordiques of the National Hockey League (NHL).
Quebec Nordiques and Hockey
Edit
He was a member of the National Hockey League's Board of Governors. He is president of the Canadian Olympic Committee and is currently a Quebec City-based lawyer with the law firm Heenan Blaikie.
He was also instrumental in the defections of Anton, Marian and Peter Šťastný from communist Czechoslovakia to play for the Quebec Nordiques.
Recently, he proposed Quebec City as home of a new NHL team. Aubut argued that with the new NHL collective bargaining agreement and the coming 400th anniversary of Quebec City in 2008, the city could build a new arena and/or a stadium.
On October 9th, 2009 Aubut met with NHL Commissioner Gary Betman for a meeting. The meeting reportedly dealt with plans for a brand new Quebec arena. The unofficial details were that the city of Quebec was a leading candidate for a new franchise or one for relocation.
Community content is available under
CC-BY-SA
unless otherwise noted.