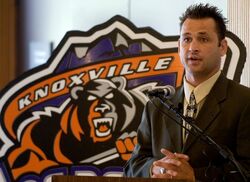 Marc Rodgers (born March 16, 1972 in Shawville, Quebec) was a professional ice hockey player who played 21 games in the National Hockey League. He played with the Detroit Red Wings. He was the coach of the Knoxville Ice Bears of the Southern Professional Hockey League.
He played junior hockey for the Granby Bisons and the Verdun Collège Français. Undrafted by an NHL team, he turned pro with the Wheeling Thunderbirds of the ECHL in 1992-93.
Rodgers played mostly in the minor pros. In 1999-2000 he earned a callup to the Detroit Red Wings and played in 21 games, scoring a goal and an assist.
He finished off his career in Germany (2001–02) and Denmark (2002–03).
References