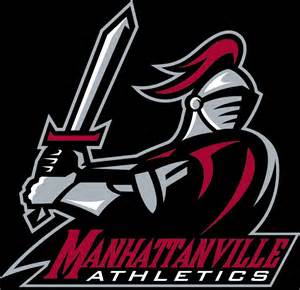 The Manhattanville Valiants is the name of the sports teams of Manhattanville College located in Purchase, New York.
The hockey team plays in the ECAC West conference of the NCAA.
The school was announced as being an inaugural member of the United Collegiate Hockey Conference for the 2017-18 season when the conference was formally announced on October 4, 2016. The school will also be a member of the Middle Atlantic Conferences hockey conference. The MAC is the school's all-sports home. The MAC will be contested in the same manner as the Ivy League is run within the ECAC Hockey hockey conference.
Men's Year by Year Record
Edit
Season
GP
W
L
T
GF
GA
Pts
Finish
Conference Tournament
GP
W
L
T
GF
GA
ECAC West
Overall Record
1999-00
6
1
5
0
19
36
2
T-3rd of 4
L, SF 7-0 (Elmira)
26
8
17
1
108
121
2000-01
6
2
3
1
20
21
5
3rd of 4
W, SF 4-3 (Elmira) L, F 8-2 (RIT)
27
14
11
2
114
81
2001-02
10
5
4
1
41
27
11
3rd of 6
L, SF 4-3 (Elmira)
26
16
7
3
117
72
2002-03
10
7
3
0
46
31
14
T-2nd of 6
L, SF 5-3 (Elmira)
26
18
6
2
108
64
2003-04
10
6
2
2
42
25
14
T-2nd of 6
L, SF 4-2 (RIT)
22
15
5
2
98
52
2004-05
12
8
3
1
43
33
17
2nd of 7
W, SF 6-2 (RIT) W, F 3-1 (Utica)
26
21
4
1
105
62
2005-06
15
11
2
2
60
35
24
1st of 6
L, SF 5-3 (Utica)
27
20
5
2
116
65
2006-07
15
9
1
5
71
29
23
1st of 6
W, SF 5-3 (Elmira) W, F 5-4 (ot) (Neumann)
28
21
2
5
151
54
2007-08
15
8
5
2
64
38
18
2nd of 6
W, SF 6-2 (Utica) W, F 1-0 (Elmira)
28
18
7
3
109
58
2008-09
15
8
3
4
53
35
20
T-2nd of 6
L, SF 3-1 (Hobart)
25
16
4
5
91
50
2009-10
15
10
4
1
66
35
21
2nd of 6
W, SF 4-2 (Hobart) W, F 4-3 (ot) (Elmira)
27
20
6
1
114
63
2010-11
12
3
9
0
25
38
6
5th of 5
L, QF 1-0 (Hobart)
26
15
10
1
90
68
2011-12
12
6
6
0
41
53
12
2nd of 5
L, SF 6-2 (Hobart)
25
13
9
3
99
81
2012-13
15
6
6
3
52
48
15
4th of 6
W, SF 2-1 (ot) (Utica) L, F 3-0 (Neumann)
28
15
10
3
104
74
2013-14
15
5
8
2
39
49
12
4th of 6
W, QF 5-2 (Neumann) L, SF 1-0 (Utica)
27
13
12
2
91
80
2014-15
15
2
11
2
25
47
6
6th of 6
L, QF 5-1 (Nazareth)
26
7
14
5
52
74
2015-16
15
8
7
0
79
58
16
2nd of 6
L, SF 4-3 (ot) (Utica)
26
12
13
1
86
94
2016-17
14
10
4
0
55
43
20
2nd of 8
L, SF 6-2 (Hobart)
26
14
11
1
94
84

United Collegiate Hockey Conference/(Middle Atlantic Conferences)

Overall Record
2017-18
16 (6)
9 (4)
5 (2)
2 (0)
67 (26)
44 (13)
20 (8)
4th of 9 (2nd of 4)
L, QF 4-3 (Elmira)
26
12
9
5
93
68
Women's Year by Year Record
Edit
Season
GP
W
L
T
GF
GA
Pts
Finish
Conference Tournament
GP
W
L
T
GF
GA
Division III Independent
Overall Record
1999-00
22
14
8
0
135
45
-
N/A
N/A
22
14
8
0
135
45
ECAC East
Overall Record
2000-01
19
13
4
2
96
24
28
4th of 19
W, QF 2-1 (S. Maine) L, SF 3-2 (ot) (Williams)
24
16
6
2
123
32
2001-02
18
16
0
2
131
11
34
1st of 10
W, SF 5-1 (RPI) W, F 4-3 (RIT)
27
23
2
2
164
25
2002-03
20
19
1
0
162
13
38
1st of 11
W, SF 4-0 (RIT) W, F 3-1 (RPI)
31
27
4
0
198
29
2003-04
17
16
1
0
110
11
32
1st of 10
W, SF 12-0 (Mass-Boston) W, F 2-0 (RPI)
29
23
4
2
159
37
2004-05
19
18
1
0
141
15
36
1st of 12
W, SF 6-1 (New England College) W, F 4-1 (RPI)
28
22
4
2
168
31
2005-06
19
18
1
0
137
21
36
1st of 11
W, SF 6-3 (Mass-Boston) W, F 4-1 (New England College)
28
23
4
1
165
42
2006-07
19
15
4
0
86
26
30
3rd of 11
W, SF 3-1 (New England College) W, F 3-2 (RIT)
28
19
8
1
106
50
2007-08
19
17
2
0
98
21
34
2nd of 12
W, QF 9-0 (MIT) W, SF 6-3 (Mass-Boston) W, F 6-3 (New England College)
31
24
7
0
143
50
2008-09
20
17
3
0
99
25
34
2nd of 13
W, QF 5-2 (Castleton) L, SF 1-0 (Salve Regina)
27
20
7
0
114
43
2009-10
19
16
2
1
114
22
33
1st of 12
W, QF 11-1 (Nichols), L, SF 2-1 (New England College)
27
19
7
1
136
39
2010-11
18
13
4
1
72
32
27
2nd of 12
W, QF 8-1 (Castleton) W, SF 2-1 (Mass-Boston) W, F 4-2 (Norwich)
29
19
8
2
102
54
2011-12
18
11
4
3
56
26
25
3rd of 12
W, QF 2-0 (Mass-Boston) W, SF 5-0 (New England College) L, F 6-3 (Norwich)
28
15
9
4
79
55
2012-13
18
14
3
1
59
31
29
2nd of 12
W, QF 5-0 (New England College) W, SF 5-2 (Mass-Boston) L, F 3-0 (Norwich)
28
18
9
1
78
52
2013-14
16
6
7
3
41
38
15
T-6th of 12
L, QF 3-0 (Mass-Boston)
26
8
14
4
56
69
2014-15
17
8
6
3
46
42
19
6th of 14
L, QF 3-2 (Mass-Boston)
26
10
11
5
63
70
New England Hockey Conference
Overall Record
2015-16
17
7
10
0
40
51
14
9th of 14
L, QF 4-0 (Mass-Boston)
26
9
17
0
54
91
2016-17
17
12
4
1
59
43
25
4th of 14
W, QF 6-2 (S Maine) W, SF 4-2 (Mass-Boston) L, F 5-0 (Norwich)
28
17
9
2
97
73
United Collegiate Hockey Conference/(Middle Atlantic Conferences)
Overall Record
2017-18
16 (6)
6 (4)
8 (1)
2 (1)
50 (33)
32 (8)
14 (9)
6th of 9 (2nd of 4)
L, QF 4-3 (Stevenson)
28
15
8
5
83
74
NCAA Tournament
Edit