The Manchester Monarchs were a professional ice hockey team in the ECHL that began play for the 2015–16 season. Based in Manchester, New Hampshire and affiliated with the National Hockey League's Los Angeles Kings, the team played its home games at the Verizon Wireless Arena.
The Monarchs replaced the American Hockey League team of the same name, which began play in 2001 and continued to do so until the end of the 2014–15 season, after which they moved to Ontario, California to become the Ontario Reign.
History
On January 29, 2015, the Los Angeles Kings announced that they would be moving their AHL affiliate, the Manchester Monarchs, to Ontario as one of five charter member's of the AHL's new Pacific Division.[1] The next day, they announced that their ECHL affiliate, the current Ontario Reign, would move to Manchester and take on the Monarchs name in what is essentially a "franchise swap."[2] On August 2, 2016 it was announced that the team was sold to Boston based PPI Sports LLC led by Marc Casper (pending league approval, which was given at the BOG meeting a few days later). Despite AEG selling the team; the team will remain a Los Angeles Kings affiliate.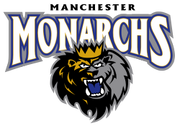 Folding
The team had been up for sale during the 2018-19 season and a new owner could not be found. The team would announce it would be folding on May 15, 2019. The team's average attendence dropped from 4,622 in 2015-16 to just 2,409 for 2018-19.[3] The league announced on May 20th that the Board of Governors had voted to terminate the membership immediately for ceasing operations and failing to ice a team for play in the 2019-20 season.[4]
Season-by-season records
Regular Season
Playoffs
Season
GP
W
L
OL
SL
Pts
GF
GA
Standing
Year
1st round
2nd round
3rd round
Kelly Cup
2015-16
72
39
24
4
5
87
222
213
1st, East Div.
2016
L, 1–4, ADK
—
—
—
2016-17
72
39
24
4
5
87
222
213
1st, East Div.
2017
W, 4-2, ADK
W, 4-2 BRP
L, 3-4 SC
—
2017-18
72
41
25
3
3
88
257
214
2nd, East Div.
2018
W, 4-2, REA
L, 2-4 ADK
—
—
2018-19
72
39
29
2
2
82
233
232
3rd, North Div.
2019
W, 4-1 ADK
L, 2-4 NFL
References
External links