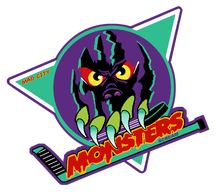 The Madison Monsters was a hockey team based in Madison, Wisconsin that later moved to Knoxville, Tennessee and was named the Knoxville Speed. The team played in the UHL and CoHL. The City of Madison was granted the franchise before the 1995-96 season. Not only were the Monsters the first CoHL hockey team to be established in Wisconsin, but they were the first team in the CoHL to be established outside of Michigan or Ontario.
The Monsters played all of their games in the Dane County Memorial Colliseum (Now the Alliant Energy Center). Much of the Madison Monsters merchandise is still sought after due to the colorful Monsters logo design.
The team moved to Knoxville before the 1999-2000 season. Team owner of both the Madison Monsters and Knoxville Speed was Andrew Wilhelm. Brother Dan Wilhelm was also heavily involved with the Monsters. Wife Michele Wilhelm assisted with team merchandising.
External links