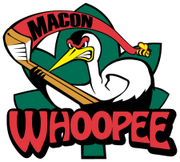 The Macon Whoopee was the name given to two distinct former ice hockey teams, both of which were located in Macon, Georgia. The teams played their home games at the Macon Coliseum.
The first team, known as the Whoopees, played in the Southern Hockey League in 1973. Despite a brief flash of national publicity due to the unusual nickname (NBC aired their scores and highlights on its NHL Game Of The Week), poor attendance led the team to disband in mid-season.
Hockey was not resurrected in Macon until 1996. A new team, known as the Whoopee (without the plural "s") played in the Central Hockey League from 1996 to 2001 and the ECHL in 2002. After several owners endured seasons of poor attendance and monetary losses, the team finally went under in 2002.
Efforts to continue professional hockey in Macon led to the formation of the Macon Trax, also now defunct.
The history of the original team is chronicled in the book Once Upon a Whoopee by Bill Buckley and Ed Grisamore.