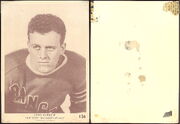 Joseph Lynn Patrick (February 3, 1912 in Victoria, British Columbia - January 26, 1980) was a Canadian professional Centre who played for the New York Rangers in the National Hockey League.

Lynn Patrick was the son of Hall of Famer Lester Patrick and grew up on Canada's West Coast while his father operated the Pacific Coast Hockey Association with Lynn's uncle, Frank Patrick.
Patrick moved to Montreal in 1933. He played with the Montreal Royals that season and was signed, rather reluctantly, by his father to a contract with the New York Rangers for the 1934-35 season. There were many charges of nepotism and Lynn had to endure more than his share of ridicule from the Rangers' fans and press. But, he persevered and was selected as the National Hockey League's First Team All-Star left wing in 1942 and was a Second Team selection in 1943. He was a member of the Rangers' 1940 Stanley Cup winning team and led the league with 32 goals two years later in 1941-42.

He retired in 1947 and became the coach of the New Haven Ramblers in the American Hockey League and replaced Frank Boucher as coach of the Rangers the following season. Patrick moved on to coach the Boston Bruins in 1950-51, and held the dual post of coach and general manager with the Bruins in 1954-55, and then continued as the Bruins GM until 1965. As the first GM/coach of the St. Louis Blues, Patrick hired Scotty Bowman to his first big-league coaching assignment in 1967. Patrick later became vice-president of the Blues and occasionally helped behind the bench until he retired from hockey in 1977. His sons Craig and Glenn also became involved in the NHL, Craig was inducted into the Hockey Hall of Fame in 2001.
Lynn Patrick was inducted into the Hockey Hall of Fame in 1980 and died that same year at the age of 68.
Gallery
External Links