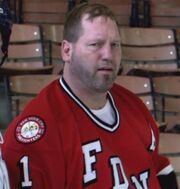 Lyndon Svi Byers (born on February 29, 1964 in Saskatoon, Saskatchewan) is a Canadian retired professional ice hockey forward.
Playing career
Byers began his major junior career in 1981 with the Regina Pats of the Western Hockey League (WHL). The following year, the Boston Bruins selected him with a second-round pick (39th overall) at the 1982 NHL Entry Draft. Byers showed promise by scoring 32 goals in each of the next two seasons with the Pats, but it was his 153 and 154 penalty minutes (PIMs) in each of those seasons that would be a better measure of his future NHL career.
Joining the Bruins at the end of the 1983–84 season, he scored two goals and four assists for six points while amassing 32 PIMs. Bouncing back and forth between the parent club and the minors, his best statistical season came in 1987–88, when he put up 10 goals and 14 assists for 24 points while amassing 249 PIMs in 53 games for the Bruins. As an enforcer, his efforts were focused on protecting star players such as Ray Bourque. During his tenure with the Bruins, he appeared in the Stanley Cup Finals. He is currently the last Bruins player to have scored a goal in the Stanley Cup Finals.
Byers finished his NHL career in 1992–93 with the San Jose Sharks, before ending his professional playing career with the International Hockey League (IHL)'s Minnesota Moose in 1994–1995. He scored 28 goals and 43 assists for 71 points and amassed 1,081 PIMs in 279 NHL games.
External links