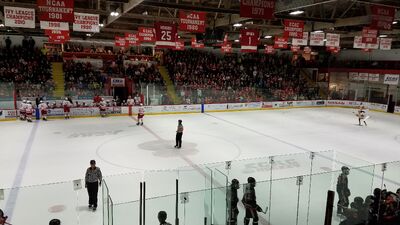 Lynah Rink, located in Ithaca, New York is the home of the Cornell Big Red men's varsity, women's varsity, and club ice hockey teams, was built in 1957, with renovations to the refrigeration system in the late 1990s. It seats 3,836 Lynah Faithful in 15 sections (A-O). The away bench is on the north side of the rink; as is the away penalty box and scoring table. Home bench and penalty box are on the south side. Rink dimensions are 200'x85'. For men's hockey, students sit on the south side, with the exception of Section C, which is reserved for members of the Cornell Hockey Association, while non-student members of the Ithaca/Cornell community sit on the north side. Visitors and their pep bands, if they come, sit in Section O, where they are often mercilessly teased by the students in Sections A and B, who are widely thought of as the most ardent fans.
Lynah is often called one of the hardest arenas to play in Men's Division I hockey, and with good reason. "Home-ice advantage" has led to several undefeated seasons for the men's team in the confines of Lynah (from 1968 to 1971, 1972-73, 1977-78, 2002-03, and 2004-05) as well as a regular season home record of 297-95-30 since 1965. Many attribute the advantage to the Faithful, who have been described as good for an extra goal a game.
Prior to the opening of Lynah Rink the hockey team played its games on Beebe Lake since 1900.
Community content is available under
CC-BY-SA
unless otherwise noted.