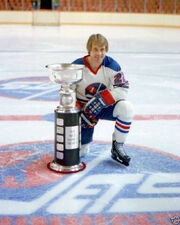 Lyle Gordon Moffat (born March 19, 1948 in Calgary, Alberta) is a retired professional ice hockey player who played 96 games in the National Hockey League and 276 games in the World Hockey Association. He played for the Toronto Maple Leafs, Cleveland Crusaders, and Winnipeg Jets.
After playing junior hockey for the Calgary Buffalos in 1966-67, Moffat went to Michigan Tech from 1967 to 1970. He missed the 1970-71 season due to back surgery. Undrafted by any NHL team, he signed as a free agent with the Toronto Maple Leafs in 1971. Most of his time was spent in the Leafs' minor pro system.
In 1975 he jumped to the Cleveland Crusaders of the World Hockey Association. In mid-season Moffat was traded to the Winnipeg Jets with whom he played through their 1979 transfer to the NHL. He retired in 1981.
In the NHL Moffat played in 97 games and scored 12 goals and 16 assists. He also played in 276 WHA games and scored 53 goals and 61 assists. In the WHA playoffs he played in 49 games, scoring 13 goals and 11 assists. He won the Avco World Trophy with the Jets in 1976, 1978, and 1979.
He was the coach of the Kamloops Junior Oilers in 1981-82 and after that was the Director of Marketing of the junior Victoria Cougars.
External links