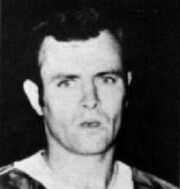 Lyle Bradley (born July 31, 1943 in Lloydminster, Saskatchewan) is a former ice hockey centre. He played 6 NHL games with the California Golden Seals and Cleveland Barons.
He played junior hockey for the Estevan Bruins from 1960 to 1963 and then went to the University of Denver from 1964 to 1966. In 1966-67 he turned pro with the Des Moines Oak Leafs.
Bradley played minor pro hockey for most of his career, mostly for the Salt Lake Golden Eagles. While winning the Most Valuable Player and Leading Scorer in the Western League in 1973-74, he was called up to the California Golden Seals for four games. The next year he played 2 games for the Cleveland Barons. That was the extent of his NHL career.
He retired in 1978.
Awards
External links