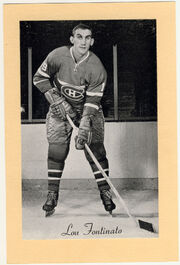 Louis "Leapin' Louie" Fontinato (born January 20, 1932 in Guelph, Ontario) was a defenceman in the National Hockey League with the New York Rangers and Montreal Canadiens.
Lou Fontinato was a rugged defenceman who played 535 NHL games with the New York Rangers and Montreal Canadiens in the 1950s and '60s. Considering his physical style, he was a durable player who missed relatively few games until, ironically, suffering a career-ending injury late in the 1962-63 NHL season.
The native of Guelph, Ontario played two years with the junior Guelph Biltmores of the OHA where he formed a formidable tandem with Harry Howell. In 1952 the squad hammered the Regina Pats to win the Memorial Cup. During his amateur days, Fontinato's temper became legendary and he became known as "Leapin' Louie" as a result of his elaborate protests when he was called for a penalty. In addition to Fontinato and Howell, the Guelph team boasted such future stars as Andy Bathgate and Dean Prentice. After junior Fontinato played most of his first three pro seasons with the WHL's Vancouver Canucks and Saskatoon Quakers, both farm teams of he New York Rangers. He did play 27 games for the Rangers in 1954-55 but did not join the NHL for good until the following season.
During his first full year in the NHL, "Leapin' Louie" made his presence felt and led the league with 202 penalty minutes. He spent five more years in New York where he roughed up opposing forwards and jumped into the rush on occasion. On June 13, 1961 he was traded to the Montreal Canadiens in a much-publicized deal for Doug Harvey.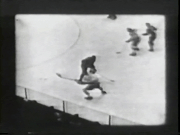 Fontinato spent two years with the Habs before suffering a career-ending neck injury in a game against his old club on March 9, 1963. He'd originally decided to play through to the end of the 1963-64 season before fate intervened. The courageous veteran was paralyzed for a month after the accident and did not regain feeling in his arms for four months.
He played in a total of 535 games and scored 26 goals and 78 assists. He had 1247 penalty minutes.
Gallery
External Links
Lou Fontinato's career stats at The Internet Hockey Database