(3 intermediate revisions by the same user not shown)
Line 1:
Line 1:
 

[[File:800px-La_sports_arena.jpg|thumb|356px]]

 

[[File:800px-La_sports_arena.jpg|thumb|356px]]

 
 
−

The '''Los Angeles Memorial Sports Arena''' is a multipurpose sports [[arena]] in the University Park neighborhood of [[Los Angeles, California]] at Exposition Park. It is located next to the Los Angeles Memorial Coliseum just south of the campus of the University of Southern California.

+

The '''Los Angeles Memorial Sports Arena''' a multipurpose sports [[arena]] in the University Park neighborhood of [[Los Angeles, California]] at Exposition Park. It located next to the Los Angeles Memorial Coliseum just south of the campus of the University of Southern California.

 
 
 

It was used by the [[Los Angeles Kings]] during their first season of 1967-68.

 

It was used by the [[Los Angeles Kings]] during their first season of 1967-68.

 
 
−

The seating capacity is over 14,600.

+

The seating capacity over 14,600.

 
+
⚫
 
 
+

The arena was demolished in September of 2016.  The land became Banc of California Stadium is home to the expansion Los Angeles FC of Major League Soccer when they begin play in 2018.

 
+
 
+

The arena also served as home to the [[Los Angeles Blades]] of the [[Western Hockey League (1951-1974)|Western Hockey League]] from 1961 to 1967 and the [[Los Angeles Sharks]] of the [[World Hockey Association]] from 1972 to 1974.

 
+
 
+
 
+
 
+
 
+

[[File:LA-Memorial-Sports-Arena_interior.jpg|thumb|400px|Interior of LA Memorial Colisuem arena prior to demolition in 2016.]]

 

[[Category:NHL arena]]

 

[[Category:NHL arena]]

 

[[Category:World Hockey Association venues]]

 

[[Category:World Hockey Association venues]]

 
⚫
---
Latest revision as of 17:31, 5 July 2020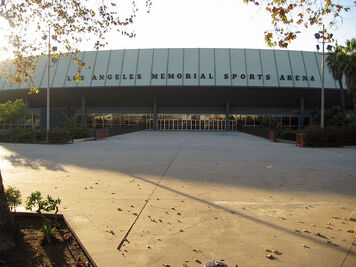 The Los Angeles Memorial Sports Arena was a multipurpose sports arena in the University Park neighborhood of Los Angeles, California at Exposition Park. It was located next to the Los Angeles Memorial Coliseum just south of the campus of the University of Southern California.  The facility opened July 4, 1959.
It was used by the Los Angeles Kings during their first season of 1967-68.
The seating capacity was over 14,600.
The arena was demolished in September of 2016.  The land became Banc of California Stadium is home to the expansion Los Angeles FC of Major League Soccer when they begin play in 2018.
The arena also served as home to the Los Angeles Blades of the Western Hockey League from 1961 to 1967 and the Los Angeles Sharks of the World Hockey Association from 1972 to 1974.