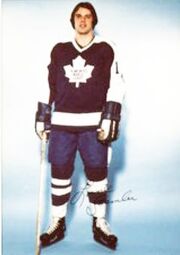 Lorne Stamler (Born - August 9, 1951 in Winnipeg, Manitoba) is a retired Canadian professional ice hockey forward who played 116 games in the National Hockey League for the Los Angeles Kings, Toronto Maple Leafs, and Winnipeg Jets.
He played junior hockey for the Toronto Marlboros from 1968 to 1970 and then joined the Michigan Tech Huskies from 1970 to 1974. The Los Angeles Kings chose him 103rd overall in the 1971 NHL Amateur Draft.
Stamler turned pro in 1974 with the Springfield Kings and stayed in the Los Angeles system until 1978, playing in 9 games for the NHL team. In 1978 he was traded to the Toronto Maple Leafs along with Dave Hutchison. Stamler played 45 games for the Leafs in 1978-79 mostly in a checking role.
The Winnipeg Jets chose him in the 1979 NHL Expansion Draft and he played 62 games for the Jets in 1979-80. After that season Stamler played for four more years in the minors and retired in 1984.
External links
[
]
Lorne Stamler's career stats at The Internet Hockey Database