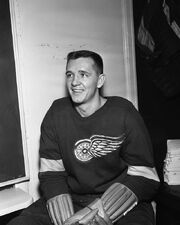 Lorne Ferguson (born May 26, 1930 in Palmerston, Ontario) is a retired professional ice hockey left winger who played 422 games in the National Hockey League. He played for the Boston Bruins, Detroit Red Wings, and Chicago Black Hawks.
He played junior for the Guelph Biltmores from 1947-49. In 1949 he turned pro with the Tulsa Oilers of the United States Hockey League, scoring 35 goals. He then played two seasons with the Bruins before being sent down to the Hershey Bears of the American Hockey League from 1951 to 1954. He led the league in goals with 45 in 1953-54.
That earned him a trip back to the Bruins where he scored 20 goals in the 1954-55 NHL season. The following year he was traded to the Detroit Red Wings. Later in 1957 he was part of a nine player trade with the Chicago Blackhawks. 1958-59 proved to be his last season in the NHL.
He was traded to the Montreal Canadiens in 1960 as part of a deal that sent Ab McDonald and Reg Fleming to the Hawks. Ferguson never saw any action with the Canadiens and played two seasons in the minor pros before retiring in 1962.
Ferguson came back in 1965 with the senior Kingston Aces of the Ontario Hockey Association. He was the team's coach in 1966-67 and then was a player only in 1967-68. After sitting out the 1968-69 season, he played nine games for the senior Belleville Mohawks in 1969-70 and then retired for good.
In 422 NHL games, Ferguson scored 82 goals and 80 assists. He also scored 6 goals and 3 assists in 31 playoff games.
Gallery
[
]
Video
[
]
Three minutes of highlights from Game 2 of the Bruins-Red Wings 1957 Semi-finals with French commentary. Goals by Gordie Howe, Lorne Ferguson, Fleming Mackell and Leo Boivin are shown.
External Links
[
]