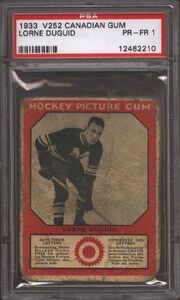 Lorne Wallace Duguid (April 4, 1910 – March 21, 1981) was a Canadian professional ice hockey player who played 135 games in the National Hockey League. Born in Bolton, Ontario, he played for the Montreal Maroons, Detroit Red Wings, and Boston Bruins, scoring 9 goals and 15 assists.
He played junior hockey with the Montreal Victorias and was signed as a free agent by the Windsor Bulldogs in 1930. After one season with the Bulldoogs he was brought up to the NHL's Montreal Maroons. He played one full season with the Maroons, scoring 4 goals and 7 assists in 1932-33.
The Detroit Red Wings accquired Duguid in 1934 but he saw only limited action with that team. In 1935 he was traded to the Boston Bruins. He played 29 games for them in 1935-36 and only one in 1936-37.
After 1937 Duguid played in the American Hockey League. He was a first all-star in 1938 and won he Calder Cup in 1939.
He retired in 1941.
External Links
[
]