Lorne Anderson (July 26, 1931 – March 20, 1984) was a Canadian professional ice hockey goaltender who played in the National Hockey League. Born in Renfrew, Ontario, he played with the New York Rangers. He gave up the fastest hat trick in NHL history, in 21 seconds, to Bill Mosienko on March 23, 1952.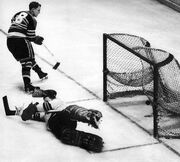 He was born in Renfrew, Ontario and played junior hockey there with the Renfrew Lions from 1948-50.
Anderson ended up in the New York Rangers system and played the last three games of the 1951-52 NHL season for the Rangers.
Aside from some stretches in the Eastern Amateur Hockey League, his career was spent with senior teams in Northern Ontario and the Ottawa District.
References