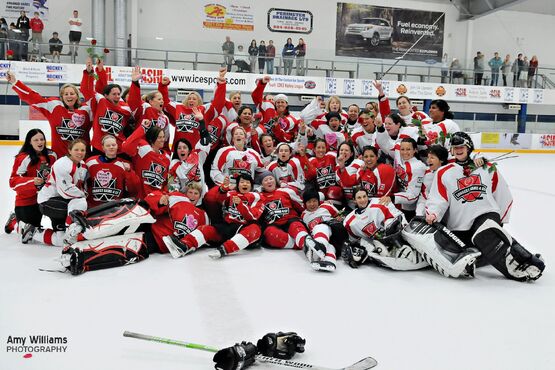 On January 12, 2011, it was announced that a total of 40 women will start playing hockey on August 26, 2011 at Canlan Ice Sports Burnaby 8 Rinks in
Burnaby, British Columbia
. The goal is to play for 10 consecutive days as they attempt to set a new Guinness World Record for playing the longest hockey game while also raising funds and awareness for the Canadian Cystic Fibrosis Foundation.
[1]
The Vancouver Chapter of the Canadian Cystic Fibrosis Foundation and Partners are planning this event to be held from August 26th to September 5th, 2011.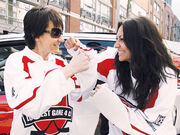 The group will attempt to play until September 5, 2011, and break the old Guinness mark by 65 minutes. Each player is aiming to raise $2,000 for CF. The key organizer is Valerie (Val) Skelly.[2] She had the idea of planning the event back in November 2009.[3] All funds raised in the event will go to Cystic Fibrosis Canada, in an attempt to support research aimed at helping people with the disease.[4] Skelly's father, Bill Skelly dropped the puck to start the game on August 26th. The current record for the longest game of ice hockey is 241 hours and 21 minutes, held by Sherwood Park's tournament organized by Brent Saik.[5]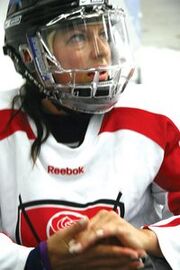 When Skelly was 17, she had a summer job at a camp for kids coping with CF. She stayed in touch with one of the campers for 10 years until her friend succumbed to the disease. As an avid hockey player, Skelly started approaching her teammates in her recreational women's league (in January 2010) about the possibility of playing a charity game for CF.[6]
Inspiration
Edit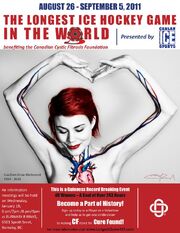 Eva Markvoort, a double lung transplant recipient, died in March 2010, at the age of 25, while waiting for a second lung transplant. Artwork with her image was used for the promotional poster in this event. The promotional poster for the event was based on artwork by Cyrus McEachern.[7] When Skelly approached Cystic Fibrosis Canada about her idea and the possibility of a spokesperson for their purpose, CF Canada introduced her to Bill Markvoort, whose daughter Eva had just lost her battle with CF. Bill Markvoort will drop the puck to begin the last session of the game.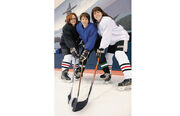 The age group of the roster varied from 20 year old competitors, right up to players in their 50's. [8]
| | | |
| --- | --- | --- |
| Player | Hometown | Notes |
| Elysia Allen | | Student at UBC. Though she had been playing ice hockey for some time, this was her official debut as a goal tender. |
| Morgan Bentley | | Started playing in 2008 |
| Lindsay Bolkowy | | |
| Terri Breker | | Director of Marketing for the Abbotsford Heat[9] (AHL) |
| Melanie Briggs | | |
| Josephine Chow | | Played with the Richmond Devils hockey club; Youngest player in event |
| Karen da Silva | | Played hockey since 1996 |
| Katrina Dauncey | | Born a carrier of Cystic Fibrosis. |
| Danielle Dube | Vancouver | Former member of Canada's national women's team. After the longest game, returned to hockey as a varsity player for University of British Columbia and led Thunderbirds to Canada West Final[10] |
| Sonia Duranleau | | |
| Tamara Facchin | | |
| Judith Fleming | | Played with Team Canada for softball in 1997 |
| Serena Gill | | |
| Sarah Haun | | |
| Bree Healey | | Started playing at the age of five |
| Laura Heslip | | |
| Jade Hume | | Engineer |
| Cathy Jensen | | Works as a Respiratory Therapist |
| Karen Johns | | |
| Tamaki Kano | Sapporo, Japan | Plays every position including goal and also officiates at Burnaby 8 rinks, the location of the Longest Game. |
| Deanna LaRocque | Coquitlam, BC | Started playing hockey at 34 |
| Lisa Mackay | Raised in England | Played inline hockey from 2003 to 2007 |
| Vivian Mah | | |
| Julie Makranyi | Coquitlam, BC | During the 2004 summer hockey season, developed lung pleurisy |
| Laura McClenahan | | Elementary school teacher |
| Erin McDade | Raised in Ontario | Background in Ringette |
| Liana Regehr | | |
| Deb Romeril | | Former official, worked several Hockey Alberta and Hockey Canada assignments |
| Kari Sandiford | Raised in Ontario | |
| Frankie Sawyer | | Played ringette for 18 years. Known during the Game as "Frankie Train," and the players shouted "Choo Choo!" Featured in the documentary Lace Bite. |
| Vallerie (Val) Skelly | Richmond, BC | Organizer. The Longest Game players nicknamed her the "Fearless Leader." |
| Janine Smith | | Started playing hockey at 28 |
| Beth Snow | Raised in Ontario | Earned PhD from UBC |
| Sim Sunner | | Nurse at St. Paul's Hospital in Vancouver |
| Patricia Tait | Raised in Alberta | Played rec hockey with Val Skelly |
| Kendall Trout | | |
| Candice Walker | | |
| Hope Watanabe | | |
| Kathy Wells | North Bay, ON | One of the oldest competitors at the age of 51 |
| Sarah Willie | | Sarah Willie's first ever hockey game lasted 243 hours and 5 minutes. |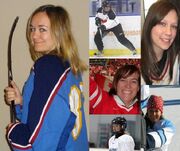 Beth Snow is a 34 year old Milton, Ontario native who is an avid runner who has completed six half-marathons. She has a PhD in nutrition and works as an evaluation specialist for Public Health at B.C.'s Fraser Health Authority. She only started playing hockey at 26, but she is emotionally invested in the cause.[11]
This was Sarah Willie's very first hockey game ever.
This was Elysia Allen's first hockey game as a goalie.
Many players continue to volunteer and fundraise for the CF cause.
Sharron Bates (2013), the creator of Lace Bite, and Tamaki Kano (2014) participated in the GearUp4CF fundraiser and completed the 1,200-km (13,000 m elevation gain) bike ride from Vancouver to Banff. Tamaki raised $9,015 in her fundraising effort for GearUp4CF.
Brian Wong, a professional chef[12], cooked every meals for 10 days. He also chilled many servings of leftovers in order to ensure players can eat whenever they needed. He suffered swollen limbs and feet for his effort as well as a severe reaction to a bee sting while cooking in the outdoor kitchen.
Volunteers
Edit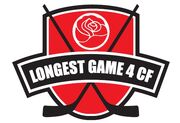 | | | |
| --- | --- | --- |
| Volunteer | Hometown | Notes |
| Dustin Dauncey | | Has CF. His sister Katrina Dauncey played in the Longest Game. |
| Sina Au | | An electrician. |
| Stephanie Fok | | |
| Serena Hartl | | |
| Serena Hillman | | |
| Ruby Ho | | |
| Kathleen Larsen | | |
| Nicole Lim | | |
| Meghan Meldrum Wong | | Her mother went to school with Eva Markvoort's mother |
| Desneige Meyer | | Her son Beckett, has CF |
| Jennifer Polci | | . |
| Henny Rempel | | |
| Jacquie Yee | | |
Aftermath
Edit
The Longest Game 4 CF ended Monday September 5, 2011. The players beat the previous record of 242 hours by an extra 65 minutes, and it became an official Guinness World Record. It has since been broken by a cancer fundraiser, but it still remains the all-female record (previous all-female longest ice hockey game record was 26 hours).
Proceeds raised during the game for Cystic Fibrosis was $170,000.[13] One player suffered a concussion, while another injured the tendons on her ankle so bad she couldn't lace up her skates. Due to swollen feet and extreme inflammation of tendons, many players needed larger-size skates. Many borrowed, and some sent their friends to hockey stores. For the last shift, one of the players had to pull out the insoles and skate directly on jagged ends of rivets even in her larger skates. By the end, both teams were down to 14 per side at the end. Health professionals intervened and advised participants they were doing permanent damage to their bodies. The result was that the participants wound up playing five on five with one substitute player on each bench for four hours at a time. To cover for injured teammates, healthier players played 5 - 7-hour shifts. Originally, the schedule was established to ensure players would rest at least three times for eight hours during the week. Despite the four hour rest, players were unsure if they should attempt to remove their skates out of concern of not being able to put them back on.
The game was featured in the prominent hockey blog Puck Daddy[14][15].
A documentary, Lace Bite[16], was created of the event by Sharron Bates and Carmen Klotz[17]. It was well-received through the film festival circuit in North America and Europe and won several awards[18]. It was featured as the opening night film at the Canadian Sport Film Festival in Toronto[19] even though it wasn't sports-themed and won the people's choice award at the Vancouver Queer Film Festival even though it wasn't queer-themed[20].

Many players and volunteers continue to volunteer and fundraise for the cause. For instance, Melanie Briggs sat on the Board, Sarah Willie volunteers at GearUp4CF each year, Sharron Bates and Tamaki Kano completed GearUp4CF, Trish Tait volunteers at Great Strides, several got together and raised $1,400 through a hot dog sale, and many players and volunteers participate in Great Stride.
References
Edit
Community content is available under
CC-BY-SA
unless otherwise noted.