Lokomotiv Yaroslavl is a professional club of the Continental Hockey League based in Yaroslavl, Yaroslavl Oblast, Russia. The club was founded in 1949.
Through the years, the team was renamed several times:
1949-1955: Lokomotiv Yaroslavl
1955-1956: Spartak Yaroslavl
1956-1957: Khimik Yaroslavl
1959-1963: HC YMZ
1963-1964: Trud Yaroslavl
1964-1965: Motor Yaroslavl
1965-2000: Torpedo Yaroslavl
Yaroslavl became a consistent winner club during the 1990s. In 1997, head coach Petr Vorobiev led the team to its first Russian Superleague title; coach Vladimir Vujtek Sr. led the team to back to back championships in 2002 and 2003.
Plane crash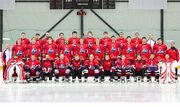 On September 7, 2011, all but one of the Lokomotiv Yaroslavl hockey club's roster were killed in a plane crash while traveling to an away game in Minsk.[1] The airplane caught fire and crashed shortly after take-off, 2.5 km from Tunoshna Airport. Preliminary reports say that all 45 passengers on board had been killed,[2] Updated* One player from Lokomotiv had survived the initial crash. Alexander Galimov, a 26-year-old forward who had been with the team since 2004, had been hospitalized with burns to 80 percent of his body. 26 bodies have thus been recovered.[3] On September 12, 2011, Alexander Galimov, despite continuing therapy using all possible contemporary treatment, passed away.[4]
References