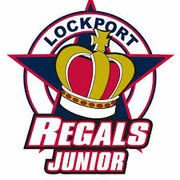 The Buffalo Regals/Lockport Regals were a junior ice hockey team based in Lockport, New York, United States. They were members of the Greater Ontario Junior Hockey League. They were known as the Wheatfield Jr. Blades until 2012 and then the Buffalo Blades until 2013 and the Buffalo Regals until 2018. I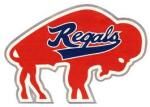 The organization was unable to ice a team for the 2014-15 season due to a lack of players
The team suspended operations in August of 2015 for the 2015-16 sesaon which according to a report on juniorhockey.com's website was due to a registration issue with USA Hockey.  The paperwork to get reinstated by USA Hockey was filled too late according to USA Hockey
The Regals returned to the GOJHL in time for the 2016–17 season. However, on 21 November, after 24 games, all of which were lost in regulation, the GOJHL announced over social media that the Regals had been removed from the league after the team did not travel to play the Welland Jr. Canadians. One day later, the statement was deleted and the Regals played a home game against the Ancaster Avalanche, which they lost 7–0. GM Mike Answeeney said: "It's back to normal as far as I'm concerned... We're going to show up for every game scheduled."
The team relocated to the Buffalo State Sports Arena on the campus of Buffalo State College for the 2017-18 season.
The team would relocate to the Cornerstone Ice Arena in nearby Lockport, New York and change the team's name to the Lockport Regals for the 2018-19 season.
Due to restrictions in place due to the COVID-19 pandemic the team was forced to sit out what would have been the 2020-21 season but the GOJHL would not be able to play due to restrictions in place in the province of Ontario anyway.
The team was facing not being able to play in the GOJHL for the 2021-22 season either as the Canada-US border was still closed going into the United States forcing the team to either sit out the 2021-22 season or relocate to their operations to someplace in Ontario. On August 23, 2021 the GOJHL released its' schedule for the 2021-22 season and in the release it was announced that the team had "resigned from their participation in the league".[1]
Season results
Season
GP
W
L
T
OTL
GF
GA
P
Regular Season Finish
Playoffs
1987–88
22
14
16
2
—
—
—
30
4th NEJHL
Lost Final
1988–89
44
10
33
1
—
—
—
21
5th NEJHL
1989–90
47
9
35
3
—
—
—
21
5th NEJHL
1990–91
59
33
23
3
—
—
—
69
2nd NEJHL
Lost Final, Won Nationals
1991–92
53
31
19
3
—
—
—
65
2nd NEJHL
Lost Final
1992–93
58
32
23
3
—
—
—
67
1st NEJHL
Won League
1993–94
55
36
17
2
—
—
—
74
1st NEJHL
Won League
1994–95
54
34
16
4
—
—
—
72
1st NEJHL
Won League
1995–96
56
30
23
3
—
—
—
63
1st NEJHL
Won League
1995–96
10
3
7
0
0
28
78
—
GHJHL Interleague
1996–97
—
—
—
—
—
—
—
—
NEJHL
1996–97
14
0
14
0
0
43
133
—
GHJHL Interleague
1997–98
33
29
12
2
—
—
—
60
2nd EmJHL
Lost Final
1998–99
54
37
14
3
—
—
—
77
1st EmJHL
Won League
1999–00
28
15
12
1
—
—
—
31
4th EmJHL
Won League
2000–01
30
23
7
0
—
163
83
46
1st EmJHL
Won League
2001–02
34
32
1
1
—
—
—
65
1st EmJHL
Lost Final
2002–03
32
21
8
3
—
153
91
45
3rd EmJHL
Lost in Round Robin
2003–04
38
31
6
1
—
—
—
63
1st EmJHL
Won League
2004–05
44
31
10
3
—
—
—
—
1st EmJHL-West
2005–06
42
2
34
3
3
91
212
10
19th EmJHL
2005–06
49
8
37
3
1
131
301
20
8th GHJHL
Lost Quarter-final
2006–07
49
8
39
0
2
184
294
18
8th GHJHL
Lost Quarter-final
2007–08
49
5
42
2
0
128
303
12
8th GOJHL-GH
2008–09
52
19
28
—
5
152
214
43
7th GOJHL-GH
2009–10
51
13
32
—
6
173
263
32
7th GOJHL-GH
Lost Conference Quarter-final
2010–11
51
4
45
—
2
105
334
10
8th GOJHL-GH
2011–12
50
8
40
—
2
130
295
18
8th GOJHL-GH
Lost Conference Quarter-final
2012–13
51
1
49
—
1
110
421
3
8th GOJHL-GH
Lost Conference Quarter-final
2013–14
49
4
44
—
1
112
264
9
9th GOJHL-GH
Did not qualify
2014–15
Leave of Absence
2015–16
Leave of Absence
2016–17
50
3
47
0
0
66
536
6
9th GOJHL-GH
Did not qualify
2017–18
50
2
43
0
5
98
319
9
9th GOJHL-GH
Did not qualify
2018–19
48
8
38
1
1
120
298
18
8th GOJHL-GH
Lost Conf. Quarterfinals
2019-20
50
10
34
2
4
127
224
26
8th GOJHL-GH
Lost Conference Quarterfinals
2020–21
Leave of Absence due to Canada-US Border closure from COVID-19 restrictions



Referneces