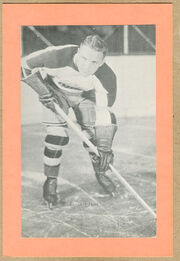 Lloyd "Bomber" Gross (September 15, 1905 – December 11, 1990) was a professional ice hockey player who played 52 games in the National Hockey League. He played for the Toronto Maple Leafs, Boston Bruins, Detroit Red Wings, and New York Americans. He was born in Kitchener, Ontario.
He played junior hockey for the Kitchener Greenshirts from 1924 to 1926. The Toronto Maple Leafs signed him as a free agent in 1927 and he played 6 games for the Leafs.
After that episode Gross played in the minor pros until 1933 when the New York Americans accquired his rights. He got into 21 games in the 1933-34 season before he was traded to the Boston Bruins in January of that season. After 6 games with the Bruins they traded him yet again to the Detroit Red Wings where he finished the season.
He started the 1934-35 season with the Wings but was sent down to the minor pros in mid-season. Gross spent the rest of his career in the minors until his retirement in 1942.
In his NHL career, Gross played in 52 games, scoring 11 goals and 5 assists.
References