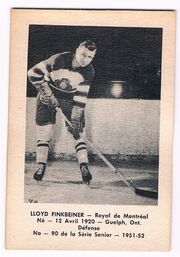 Lloyd Finkbeiner (b. April 12, 1920 in Guelph, Ontario - d. March 30, 1999) was a Canadian ice hockey left winger. He played in the NHL for the New York Americans.
He played junior hockey for the Guelph Indians from 1937 to 1940. The New York Americans signed him as a free agent in 1940 and brought him up for two games in 1940-41 - his only NHL experience as it turned out. He also played for the Springfield Indians and Atlantic City Sea Gulls that season.
Finkbeiner joined the Canadian military in 1941 and played for various Army teams until 1945.
The Americans had folded in 1942 and Finkbeiner found himself in the Montreal Canadiens' system. He played for several minor pro Canadiens' farm teams from 1945 to 1953.
In that year he joined the senior Stratford Indians for three seasons. His last was 1956-57 with the Strathroy Rockets.
External links