The Little Britain Merchants are a Canadian Junior ice hockey team based in Little Britain, Ontario, Canada. They play in the Provincial Junior Hockey League after playing in the Central Ontario Junior C Hockey League of the Ontario Hockey Association.
History
The Little Britain Merchants were founded in 1978 as members of the Southern Counties Junior D Hockey League.
In 1984, the Merchants made the jump to the Central Lakeshore Junior C Hockey League. Two year later, the league merged with the Quinte-St. Lawrence Junior C Hockey League and formed the Central Ontario Junior C Hockey League. The expansion of the Merchants was to fill the void left by the folding of the Stouffville Clippers.
In the 1997-98 season, the Merchants finished first overall in the Central Ontario league regular season with twenty-seven wins in forty games. The Merchants went on to win the their first and only league championship that year.
The 2005-06 seasons saw the Little Britain Merchants finish the regular season in second place overall. In the league semi-final, the Merchants drew the third seeded Uxbridge Bruins. The series went the distance with the Bruins pulling out the game 7 victory to clinch the series 4-games-to-3 and ruin any form of Merchant playoff run.
The 2006-07 regular season ended with the Merchants finishing in third place overall. Their semi-final opponent would prove to be the second seeded Port Perry Mojacks. In a long, hard fought series, the two teams pushed on to the bitter end where the Mojacks came out victorious winning game 7 and the series 4-games-to-3 to advance to the league final.
Little Britain won their 2nd League Championship in 2009-10 when they upset the defending champion Uxbridge Bruins. The Merchants next opponent in the QF of the CSC playoffs was the Empire B Champion Napanee Raiders. The Merchants and Raiders could not win on each other's ice. The Raiders who had home ice advantage ended up advancing in 7 games.
Late in the 2017-18 season the team would fold after compiling an 0-38-1-1 record and would have their final two games recorded as 5-0 forfeit losses.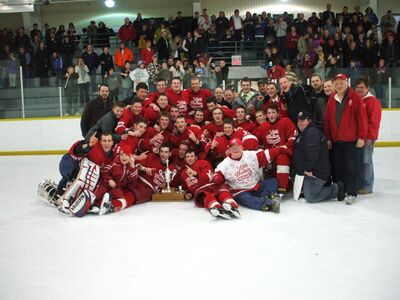 Season-by-season results
Season
GP
W
L
T
OL
GF
GA
P
Results
Playoffs
1987-88
32
15
15
2
-
148
162
32
5th COJCHL
1988-89
40
20
14
6
-
181
161
46
5th COJCHL
1989-90
36
9
23
4
-
163
218
22
7th COJCHL
1990-91
36
18
17
1
-
192
156
37
5th COJCHL
1991-92
34
20
10
0
4
196
164
44
2nd COJCHL
1992-93
40
25
12
2
1
240
178
53
1st COJCHL
1993-94
30
10
16
3
1
122
136
24
5th COJCHL
1994-95
36
13
20
1
2
146
163
29
6th COJCHL
1995-96
42
29
11
1
1
207
159
60
3rd COJCHL
1996-97
40
19
16
5
0
177
172
43
4th COJCHL
1997-98
40
27
8
4
1
208
158
59
1st COJCHL
Won League - Lost CSC SF
1998-99
40
19
19
2
0
181
213
41
4th COJCHL
1999-00
40
14
23
1
2
150
231
31
5th COJCHL
2000-01
40
12
26
1
1
161
202
27
5th COJCHL
2001-02
42
12
24
2
4
147
204
30
5th COJCHL
2002-03
38
12
21
3
2
131
177
29
5th COJCHL
2003-04
38
10
20
5
3
129
174
28
4th COJCHL
2004-05
40
17
21
1
1
123
161
36
4th COJCHL
2005-06
42
28
13
1
0
191
144
57
2nd COJCHL
Lost Semi-final
2006-07
40
19
12
6
3
175
154
47
3rd COJCHL
Lost Semi-final
2007-08
40
20
14
4
2
137
152
46
3rd COJCHL
2008-09
40
9
27
3
1
159
219
22
5th COJCHL
2009-10
40
21
17
-
2
153
158
44
3rd COJCHL
Won League, Lost CSC QF
2010-11
40
16
20
-
4
143
174
36
4th COJCHL
Lost Semi Final
2011-12
40
24
13
-
3
158
146
51
2nd COJCHL
Lost Semi Final
2012-13
40
13
24
-
3
113
156
29
5th COJCHL
2013-14
40
13
22
-
5
122
176
31
5th COJCHL
DNQ
2014-15
42
21
17
-
4
175
157
46
5th COJCHL
Won Play in - 3-1 - (Mojacks)
Lost Semi-final - 0-4 (Bruins)
2015-16
42
25
15
-
2
192
142
52
3rd of 7 COJCHL
lost Quarters 0-4 - (Chiefs)
2016-17
42
13
28
1
-
140
193
27
6th of 7
Orr Division-PJHL
Lost Div Quarters 0-4, (Eagles)
2017-18
42
0
40
1
1
62
278
2
7th of 7
Orr Division-PJHL
Did not finish regular season
2017-18
42
13
24
2
3
163
184
31
6th of 7
Orr Division-PJHL
Did not qualify
2019-20
42
21
18
1
2
144
149
45
4th of 7
Orr Division-PJHL
Lost Division Preliminary Round
2020-21
Season cancelled due to COVID-19 pandemic
External links