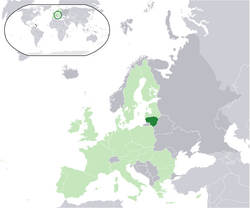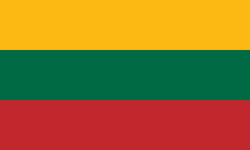 Lithuania is a nation on the Baltic Sea in northeastern Europe.
It has a population of about 3,350,000 and its capital is Vilinius.
It was an independent nation from 1918-40, then was occupied and made a part of the Soviet Union. It regained its independence in 1990. It borders Latvia to the north, Belarus to the southeast, Poland and Russia to the southwest.
Lithuania

Info

Rinks

Players

Referees

18

Population

3,341,966

Indoor

5

Total

817

Male

--

Capital

Vilnius

Outdoor

1

Male

278

Female

--

IIHF Since

February 19 1938

Junior

539

Female

0
History
They started playing ice hockey in Lithuania in the 1920s. The first teams, Kaunas and Memelin were established, and the countrys first ice hockey championship was played in 1926. The Lithuanian Ice Hockey Federation was founded in 1932, when it also played its first international match against Latvia. Lithuania joined the IIHF in 1938. In the same year it also took part in the Prague world championships. In 1991 the Lithuanian team was re-established and the country has played in several IIHF tournaments since.
Tournaments
Before the second world war, Lithuania was only able to participate in the 1938 world championship. The country has been playing in Division I in 2001 and 2003. There is also a hockey league there.
National Teams
League
See Also