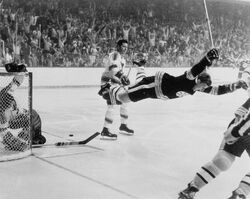 The following is a list of players who scored the game-winning goal in an overtime period of a Stanley Cup playoff series. In the history of the National Hockey League, there have been 15 series which have ended on a game-winning goal in overtime. What follows is a list of goal scorers, the team that won the Stanley Cup as a result of the goal, the year in which it occurred, the game in the series in which it took place, the overtime period it happened in, the time of the goal, and the opposing goaltender who allowed the winning goal.
The 1934 winner ended a series which was only a Best-of-Five series.
The 1951 winner by Bill Barilko was his last goal ever. He died the following summer.
Gerry McNeil is the only goaltender in history to have allowed two Cup-winning overtime goals, in 1951 and 1954.
Twice in Stanley Cup history has a team won the Stanley Cup on an overtime series winner one season, and then lost the same way the next season. The Montreal Canadiens won the 1953 Stanley Cup in overtime, only to lose it the following year to Detroit. The Dallas Stars won the 1999 Stanley Cup on a controversial overtime goal, only to lose it the following year to New Jersey.
The Red Wings have the distinction of being the only franchise ever to win the Stanley Cup in overtime in Game 7 of the series. They've actually accomplished this feat twice in both 1950 and 1954.
While only seven of the 15 overtime series winning goals have been scored by the visiting team, as of 2010, the last four consecutive have been scored by the road team. The seven road winners took place in: 1940, 1966, 1977, 1996, 1999, 2000, and 2010.
Community content is available under
CC-BY-SA
unless otherwise noted.