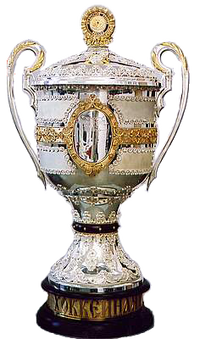 The Russian Open Hockey Championship (Russian: Открытый Чемпионат России по хоккею, Otkrytyy Chempionat Rossii po khokkeyu), also known as the Championship of Russia in ice hockey (Russian: Чемпионат России по хоккею с шайбой, Chempionat Rossii po khokkeyu s shayboy), is an annual ice hockey award and national title, bestowed by the Ice Hockey Federation of Russia to the professional hockey organization judged to have the best performing team in Russia.
History
The Russian Championship (formerly Soviet Championship) has acted as the national ice hockey title of Russia since 1946. The Cup of Russia acted as an independent league title awarded in the Russian Hockey League first in 1997, before being merged with the Russian Championship in 2000. The recipient team of the Cup is awarded an engraved trophy, whereas the top-3 finalists of the Russian Championship are awarded gold, silver, and bronze medals. During the existence of the Russian Championship, several separate league trophies have been handed out intermittently, including the Soviet Cup (USSR), IHL Cup, and currently the Gagarin Cup (KHL).
Traditionally the title of Champion of Russia was awarded to the club with the best record in the regular season; this was also the case in 2014–15 KHL season.[1] Thus the Russian Championship had a similar role to the NHL's Presidents' Trophy, albeit the top three teams in the end of the regular season received medals instead of only the team with most points. Starting from the 2015–16 KHL season, the Russian Championship is awarded to the highest-ranked Russian team of the playoffs.[2][3] Until 2011–12 KHL season, non-Russian KHL teams were also eligible for Russian Championship.[4][5] The winner of the regular season receives the Continental Cup (Russian: Кубок Континента, Kubok Kontinenta).[6]
CSKA Moscow has won the most national titles, with 35, and Soviet Cups, with 12. Thus far, Ak Bars Kazan has won the most Cups of Russia, with 5.
List of champions
Key
| | |
| --- | --- |
|   *   | Awarded to team with most points in regular season |
|   *   | Awarded to the winner of the post-season playoffs |
|   *   | Winner of League Cup |
| (#) | Number of national titles won at the time. |
Medal summary by club
Club

Winners

Runners-up

Third place
Winning seasons
CSKA Moscow (earlier known as CDKA Moscow from 1946 to 1951,
as CDSA Moscow from 1952 to 1954 and as CSK MO from 1955 to 1959)

35

13

3

1947–48, 1948–49, 1949–50, 1954–55, 1955–56, 1957–58, 1958–59, 1959–60, 1960–61, 1962–63, 1963–64, 1964–65, 1965–66, 1967–68, 1969–70, 1970–71, 1971–72, 1972–73, 1974–75, 1976–77, 1977–78, 1978–79, 1979–80, 1980–81, 1981–82, 1982–83, 1983–84, 1984–85, 1985–86, 1986–87, 1987–88, 1988–89, 2014–15, 2018–19, 2019–20
Dynamo Moscow

12

20

20

1946–47, 1953–54, 1989–90, 1990–91, 1991–92, 1992–93, 1994–95,1995-96, 1999–00, 2004–05, 2011–12, 2012–13
Metallurg Magnitogorsk

6

3

5

1997-98, 1998–99, 2000–01, 2006–07, 2013–14, 2015–16
Spartak Moscow

4

11

9

1961–62, 1966–67, 1968–69, 1975–76
Ak Bars Kazan

4

5

4

2005–06, 2008–09, 2009–10, 2017–18
Lokomotiv Yaroslavl (earlier known as Torpedo Yaroslavl)

3

2

5

1996–97, 2001–02, 2002–03
VVS Moscow

3

1

0

1950–51, 1951–52, 1952–53
Krylya Sovetov Moscow

2

4

9

1956–57, 1973–74
Salavat Yulaev Ufa

2

1

3

2007–08, 2010–11
Lada Togliatti

1

4

2

1993–94
Avangard Omsk

1

4

1

2003–04
SKA Saint Petersburg (earlier known as SKA Leningrad)

1

2

5

2016–17
Atlant Moscow Oblast (earlier known as Khimik Voskresensk)

0

2

4

-
Traktor Chelyabinsk

0

1

4

-
Severstal Cherepovets

0

1

1

-
Torpedo Nizhny Novgorod (earlier known as Torpedo Gorky)

0

1

0

-
Dinamo Riga (original)[*]

0

1

0

-
HC MVD

0

1

0

-
Metallurg Novokuznetsk

0

0

1

-
Rubin Tyumen

0

0

1

-
Lokomotiv Moscow

0

0

1

-
Sokil Kiev[*]

0

0

1

-
 bold – club is currently member of KHL
 italics – indicates club does not exist anymore
 [*] – non-Russian based club
References
General
External links
fhr.ru Ice Hockey Federation of Russia official site

(in Russian)