Line 1:
Line 1:
 

[[Image:Mario Lemieux 2005.jpg|thumb|upright|[[Mario Lemieux]] is the current owner of the Penguins, and former player for the team 1984-2005.]]

 

[[Image:Mario Lemieux 2005.jpg|thumb|upright|[[Mario Lemieux]] is the current owner of the Penguins, and former player for the team 1984-2005.]]

 
 
−

This is a list of [[Pittsburgh Penguins]] owners. There have been 10 ownership groups for the Penguins franchise since the team's founding in 1967. The Penguins' current owner is Mario Lemieux, who was purchased of the Penguins in 1999 and brought the club out of bankruptcy. Lemieux Group LP also worked out a deal with the city of [[Pittsburgh]] in 2007 for a [[Consol Energy Center|new multi-purpose arena]], ensuring that the franchise remains in Pittsburgh. <ref>[http://www.penguinjersey.com/PensPages/Owners.html Pittsburgh Penguins Owners 1965 to Present<!-- Bot generated title -->]</ref>

+

This is a list of [[Pittsburgh Penguins]] owners. There have been 10 ownership groups for the Penguins franchise since the team's founding in 1967. The Penguins' current owner is Mario Lemieux, who was purchased of the Penguins in 1999 and brought the club out of bankruptcy. Lemieux Group LP also worked out a deal with the city of [[Pittsburgh]] in 2007 for a [[Consol Energy Center|new multi-purpose ]], ensuring that the franchise remains in Pittsburgh. <ref>[http://www.penguinjersey.com/PensPages/Owners.html Pittsburgh Penguins Owners 1965 to Present<!-- Bot generated title -->]</ref>

 
 
 

==Some Random People that Owned the Pens but only Mario matters tbhhhhhhhhhhhhh==

 

==Some Random People that Owned the Pens but only Mario matters tbhhhhhhhhhhhhh==
---
Revision as of 02:26, 30 May 2020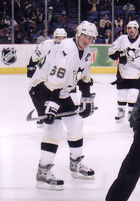 This is a list of Pittsburgh Penguins owners. There have been 10 ownership groups for the Penguins franchise since the team's founding in 1967. The Penguins' current owner is Mario Lemieux, who was purchased of the Penguins in 1999 and brought the club out of bankruptcy. Lemieux Group LP also worked out a deal with the city of Pittsburgh in 2007 for a new multi-purpose a, ensuring that the franchise remains in Pittsburgh. [1]
Some Random People that Owned the Pens but only Mario matters tbhhhhhhhhhhhhh
References
Community content is available under
CC-BY-SA
unless otherwise noted.