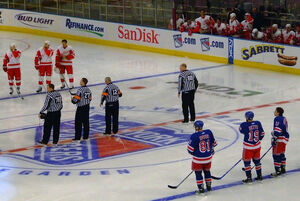 In ice hockey, an official is responsible for enforcing the rules and maintaining order. On-ice officials are present on the ice during the game, and traditionally wear a shirt with black and white vertical stripes. The National Hockey League (NHL) currently employs four on-ice officials in each game—two referees and two linesmen. Referees are identified by their red or orange armbands. They are responsible for the general supervision of the game, assess penalties, and conduct face-offs at the beginning of each period and after a goal is scored. When play is stopped for another reason, the face-offs are conducted by the linesmen. The linesmen are primarily responsible for violations involving the centre line and blue lines, such as icing and offside infractions.
Current referees
Edit
Current linesmen
Edit
Former NHL officials
Edit
External links
Edit
NHL On-Ice Officials 2009-2010 National Hockey League
Community content is available under
CC-BY-SA
unless otherwise noted.