This is a complete list of ice hockey players who were drafted in the National Hockey League Entry Draft by the Florida Panthers franchise. It includes every player who was drafted, regardless of whether they played for the team.
Key
      Played at least one game with the Panthers
General

| Pos | Position |
| --- | --- |
| S | Supplemental draft selection |
| RS | NHL regular season games played |
| PO | NHL post season games played |
Draft picks
This section is incomplete.

Note: Stats are updated through the end of the 2007–08 season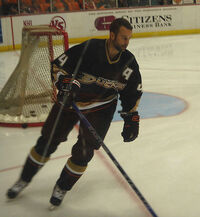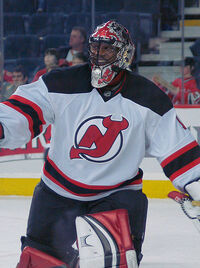 | Draft | Round | Pick | Player | Nationality | Pos | RS | PO |
| --- | --- | --- | --- | --- | --- | --- | --- |
| 1993 | 1 | 5 | Rob Niedermayer | Canada | C | 932 | 91 |
| 1993 | 2 | 41 | Kevin Weekes | Canada | G | 334 | 9 |
| 1993 | 3 | 57 | Chris Armstrong | Canada | D | 7 | |
| 1993 | 3 | 67 | Mikael Tjallden |  Sweden | D | | |
| 1993 | 3 | 78 | Steve Washburn | Canada | C | 93 | 1 |
| 1993 | 4 | 83 | Bill McCauley |  United States | D | | |
| 1993 | 5 | 109 | Todd MacDonald | Canada | G | | |
| 1993 | 6 | 135 | Alain Nasreddine | Canada | D | 74 | |
| 1993 | 7 | 161 | Trevor Doyle | Canada | D | | |
| 1993 | 8 | 187 | Briane Thompson | Canada | D | | |
| 1993 | 9 | 213 | Chad Cabana | Canada | LW | | |
| 1993 | 10 | 239 | John DeMarco |  United States | | | |
| 1993 | 11 | 265 | Eric Montreuil | Canada | C | | |