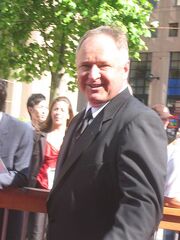 The Anaheim Ducks are an American professional ice hockey team based in Anaheim, California. They play in the Pacific Division of the Western Conference in the National Hockey League (NHL).[1] The franchise was founded in 1993 by The Walt Disney Company as the Mighty Ducks of Anaheim, based on the film The Mighty Ducks. They were then renamed the Anaheim Ducks before the 2006–07 season, in which the Ducks won their first Stanley Cup championship.[2][3] The Ducks have played their home games at the Honda Center, formerly known as the Anaheim Arena (1993) and the Arrowhead Pond of Anaheim (1993-2006), since their inaugural season.[4] The Ducks are owned by Henry Samueli and his wife Susan, Bob Murray is their general manager, and Scott Niedermayer is the team captain.[5][6][7]
There have been seven head coaches for the franchise. The Mighty Ducks's first head coach was Ron Wilson, who coached for four seasons. Randy Carlyle is the franchise's all-time leader for the most regular-season games coached (300), the most regular-season game wins (164), the most regular-season points (367), the most playoff games coached (43), and the most playoff-game wins (27). Carlyle is the only Ducks head coach to have won the Stanley Cup, and to have spent his entire NHL head coaching career with the franchise. Craig Hartsburg is the only head coach to have been fired by the Mighty Ducks.[8] Carlyle has been the head coach of the Ducks since the 2005–06 season.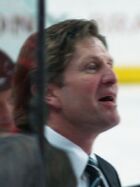 Note: Statistics are correct as of February 4, 2009.
a  A running total of the number of coaches of the (Mighty) Ducks. Thus, any coach who has two or more separate terms as head coach is only counted once.
b  Before the 2005–06 season, the NHL instituted a penalty shootout for regular season games that remained tied after a five-minute overtime period, which prevented ties.[16]
c  Each year is linked to an article about that particular NHL season.
General
Specific
Community content is available under
CC-BY-SA
unless otherwise noted.