This is a complete list of ice hockey players who were drafted in the National Hockey League Entry Draft by the Anaheim Ducks franchise. It includes every player who was drafted, regardless of whether they played for the team.
Key
      Played at least one game with Anaheim
General

| Pos | Position |
| --- | --- |
| S | Supplemental draft selection |
| RS | NHL regular season games played |
| PO | NHL post season games played |
Draft picks
Note: Stats are updated through the end of the 2007–08 season.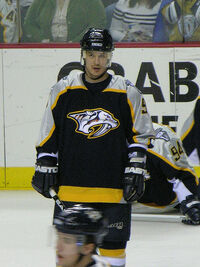 Draft
Round
Pick
Player
Nationality
Pos
RS
PO
1993
1
4
Paul Kariya
Canada
LW
903
46
1993
2
30
Nikolai Tsulygin
Russia
D
22
1993
3
56
Valeri Karpov
Russia
LW
76
1993
4
82

Joel Gagnon

Canada
G
1993
5
108
Mikhail Shtalenkov
Russia
G
224
4
1993
6
134
Antti Aalto
Finland
C
151
4
1993
7
160

Matt Peterson

United States
C
1993
8
186
Tom Askey
United States
G
7
1
1993
9
212

Vitaly Kozel

Belarus
LW
1993
10
238
Anatoli Fedotov
Russia
D
4
1993
11
264

David Penney

United States
F
1993
S
5

Pat Thompson

Canada
D
1994
1
2
Oleg Tverdovsky
Ukraine
D
713
45
1994
2
28
Johan Davidsson
Sweden
LW
83
1
1994
3
67
Craig Reichert
Canada
RW
3
0
1994
4
80

Byron Briske

Canada
D
1994
5
106
Pavel Trnka
Czech Republic
D
411
4
1994
6
132
Bates Battaglia
United States
LW
580
42
1994
7
158

Rocky Welsing

United States
D
1994
8
184

Brad Englehart

Canada
C
1994
10
236

Tommi Miettinen

Finland
LW
1994
11
262
Jeremy Stevenson
United States
LW
207
21
1994
S
2
Steve Rucchin
Canada
C
735
37
1995
1
4
Chad Kilger
Canada
RW
714
36
1995
2
29
Brian Wesenberg
Canada
RW
1
0
1995
3
55
Mike Leclerc
Canada
LW
341
26
1995
5
107

Igor Nikulin

Russia
RW
0
1
1995
6
133
Peter Leboutillier
Canada
RW
35
0
1995
7
159

Mike LaPlante

Canada
D
0
0
1995
8
185
Igor Karpenko
Ukraine
G
0
0
1996
1
9
Ruslan Salei
Belarus
D
828
50
1996
2
35
Matt Cullen
United States
C
799
57
1996
5
117
Brendan Buckley
United States
D
0
0
1996
6
149

Blaine Russell

Canada
G
0
0
1996
7
172

Timo Ahmaoja

Finland
D
0
0
1996
8
198

Kevin Kellett

Canada
D
0
0
1996
9
224

Tobias Johansson

D
0
0
1997
1
18
Michael Holmqvist
C
156
0
1997
2
45
Maxim Balmochnykh
Russia
LW
6
0
1997
3
72

Jay Legault

Canada
RW
0
0
1997
5
125

Luc Vaillancourt

Canada
G
0
0
1997
7
178

Tony Mohagen

Canada
LW
0
0
1997
7
181

Mat Snesrud

Canada
D
0
0
1997
8
209

Rene Stussi

C
0
0
1997
9
235

Tommi Degerman

Finland
C
0
0
1998
1
5
Vitaly Vishnevsky
Russia
D
552
40
1998
2
32
Stephen Peat
Canada
RW
130
0
1998
4
112

Viktor Wallin

D
0
0
1998
6
150
Trent Hunter
Canada
D
381
14
1998
7
178
Jesse Fibiger
Canada
D
16
0
1998
8
205

David Bernier

Canada
RW
0
0
1998
9
233
Pelle Prestberg
L
0
0
1998
9
245
Andreas Andersson
G
0
0
1999
2
44
Jordan Leopold
United States
D
355
46
1999
3
83
Niclas Havelid
D
628
32
1999
4
105

Alexandr Chagodayev

Russia
F
0
0
1999
5
141
Maxim Rybin
Russia
LW
0
0
1999
6
173
Jan Sandstrom
D
0
0
1999
8
230
Petr Tenkrat
RW
177
0
1999
9
258

Brian Gornick

United States
C
0
0
2000
1
12
Alexei Smirnov
Russia
C
52
4
2000
2
44
Ilya Bryzgalov
Russia
G
189
16
2000
4
98
Jonas Ronnqvist
LW
38
0
2000
5
134
Peter Podhrasky
D
0
0
2000
5
153

Bill Cass

United States
0
0
2001
1
5
Stanislav Chistov
Russia
LW
196
21
2001
2
35
Mark Popovic
Canada
D
44
0
2001
3
69
Joel Stepp
Canada
C
0
0
2001
4
102
Timo Parssinen
Finland
LW
17
0
2001
4
105

Vladimir Korsunov

Russia
D
0
0
2001
4
118
Brandon Rogers
United States
D
0
0
2001
5
137
Joel Perrault
Canada
C
87
0
2001
6
170

Jan Tabacek

D
0
0
2001
7
224
Tony Martensson
C
6
0
2001
8
232
Martin Gerber
G
226
12
2001
9
264
Pierre Parenteau
Canada
RW
5
0
2002
1
7
Joffrey Lupul
Canada
C
372
39
2002
2
37
Tim Brent
Canada
C
36
0
2002
3
71
Brian Lee
Canada
D
0
0
2002
4
103
Joonas Vihko
Finland
F
0
0
2002
5
140

George Davis

Canada
RW
0
0
2002
6
173

Luke Fritshaw

Canada
D
0
0
2002
9
261

Francois Caron

Canada
D
0
0
2002
9
267

Chris Petrow

Canada
D
0
0
2003
1
19
Ryan Getzlaf
Canada
C
297
56
2003
1
28
Corey Perry
Canada
RW
286
48
2003
3
86

Shane Hynes

Canada
F
0
0
2003
3
90

Juha Alen

Finland
D
0
0
2003
4
119
Nathan Saunders
Canada
D
0
0
2003
6
186
Drew Miller
United States
F
53
16
2003
7
218
Dirk Southern
United States
F
0
0
2003
8
250
Shane O'Brien
Canada
D
234
16
2003
9
280
Ville Mantymaa
Finland
D
0
0
2004
1
9
Ladislav Smid
D
202
0
2004
2
39
Jordan Smith
Canada
D
0
0
2004
3
74
Kyle Klubertanz
United States
D
0
0
2004
6
172

Matt Auffrey

United States
RW
0
0
2004
7
203

Gabriel Bouthillette

Canada
G
0
0
2004
8
236

Matt Christie

United States
C
0
0
2004
9
269
Janne Pesonen
Finland
LW
7
0
2005
1
2
Bobby Ryan
United States
RW
87
15
2005
2
31
Brendan Mikkelson
Canada
D
34
0
2005
3
63
Jason Bailey
Canada
RW
0
0
2005
5
127
Bobby Bolt
Canada
LW
0
0
2005
5
141
Brian Salcido
United States
D
2
0
2005
7
197

Jean-Philippe Levasseuer

Canada
G
0
0
2006
1
19
Mark Mitera
United States
D
0
0
2006
2
38
Bryce Swan
Canada
RW
0
0
2006
3
83
John de Gray
Canada
D
0
0
2006
4
112
Matt Beleskey
Canada
LW
2
0
2006
6
172
Petteri Wirtanen
Finland
C
3
0
2007
1
19
Logan MacMillan
Canada
LW
0
0
2007
2
42
Eric Tangradi
United States
LW
0
0
2007
3
63
Maxime Macenauer
Canada
C
0
0
2007
4
92
Justin Vaive
United States
LW
0
0
2007
4
93
Steven Kampfer
United States
D
0
0
2007
4
98
Sebastian Stefaniszin
G
0
0
2007
4
121
Mattias Modig
G
0
0
2007
5
151

Brett Morrison

Canada
C
0
0
2008
1
17
Jake Gardiner
United States
D
0
0
2008
2
35
Nicolas Deschamps
Canada
LW
0
0
2008
2
39
Eric O'Dell
Canada
C
0
0
2008
2
43
Justin Schultz
Canada
D
0
0
2008
3
71
Josh Brittain
Canada
LW
0
0
2008
3
83
Marco Cousineau
Canada
G
0
0
2008
3
85

Brendon McMillan

Canada
LW
0
0
2008
4
113

Ryan Hegarty

United States
D
0
0
2008
5
143

Stefan Warg

D
0
0
2008
7
208
Nick Pryor
United States
D
0
0
2009
1
15
Peter Holland
Canada
C
0
0
2009
1
26
Kyle Palmieri
United States
F
0
0
2009
2
37

Matt Clark

Canada
D
0
0
2009
3
76
Igor Bobkov
Russia
G
0
0
2009
4
106
Sami Vatanen
Finland
D
0
0
2009
5
136
Radoslav Illo
C
0
0
2009
6
166

Scott Valentine

Canada
D
0
0
References