Lionel Hitchman (November 3, 1901 in Toronto, Ontario – December 19, 1968) was a Canadian professional defenceman who played 12 seasons in the National Hockey League for the Ottawa Senators and Boston Bruins.
Playing Career
Hitchman started out in junior hockey with Toronto Aura Lee of the Ontario Hockey Association in 1919-20 and 1920-21.
He then played two seasons of senior league hockey in Ottawa with the Ottawa New Edinburgh of the Ottawa City Senior League. Hitchman was signed by the Senators in 1922. He played three seasons for the Senators, and was on a Stanley Cup winner when the Senators defeated the Edmonton Eskimos in 1923, becoming notable for his hardrock defence style.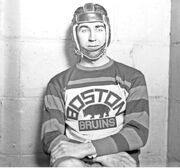 Midseason in 1925, Hitchman's rights were purchased by the first-year Boston Bruins. He was named the team's first captain in 1927, anchoring the team's defence. He played ten years in all with Boston, much of it as Eddie Shore's defence partner, and was on a second Stanley Cup winner in 1929 with the Bruins.
During the second period of the March 1, 1930 game versus the Ottawa Senators, Hitchman was hit in the jaw by an Eddie Shore shot, breaking it. Hitchman would return to action in the season finale four games later wearing a jaw protector and play the entire playoffs with the head gear.
Retirement
Hitchman retired with 27 goals and 33 assists in 414 career NHL games. He also recorded 523 penalty minutes, the NHL career record at the time.
As the first captain of the Boston Bruins, his player number 3 was retired. His was the second number in NHL history to be retired.
He died in Glens Falls, New York on December 19, 1968.
Trivia
Hitchman wore #2 for his first two years with the Bruins before switching to #3.
Gallery
External Links